The latest edition of UNA-UK's magazine offers reflections on the crossroads of climate action and whether humanity will choose to breakdown or breakthrough.
Ahead of the United Nations climate conference in Glasgow, our magazine addresses the present state of global warming and delivers perspectives on the action we urgently need, collectively and individually, to avoid the worst case climate scenarios. 
In her editorial, Natalie Samarasinghe sets out why the climate emergency is arguably the greatest human rights challenge we face.
"We need to stop tolerating unacceptable levels of harm in other parts of the world."
In this year's essay, President of the 76th Session of the General Assembly, Abdulla Shahid, makes the case that hope will "rescue us from complacency and cynicism" and work as a catalyst for vital climate action.
Our dedicated briefing on what to expect at COP26 dives into the latest IPCC report and the prospects of keeping 1.5 degrees alive; Sudanese climate negotiator and Chair of the UN Secretary-General's Youth Advisory Group on Climate Change, Nisreen Elsaim, sets out her hopes for the conference. 
"You can negotiate agreements, finance, projects. But you cannot negotiate science." 
Jojo Mehta, Daniela Tejada, Arthur Lyon Dahl and John Gittings offer their perspectives on climate solutions, and our Ten feature subsequently highlights big ideas for a sustainable future.
The need for urgent action cannot be overstated, and the Facts presents two scenarios for climate change, drawn in part from the Secretary-General's Our Common Agenda report, highlighting the stark choice we face.
The Last Word is left to Leah Namugerwa, a climate activist and team leader for Fridays Future Uganda, who reminds us our future depends on us and it's not too late to act.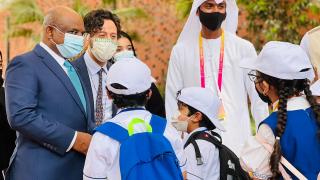 THE COURAGE TO HAVE HOPE ON CLIMATE
The latest edition of UNA-UK's magazine offers reflections on the crossroads of climate action