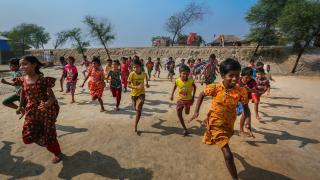 I guess no one thought a tiny virus could change all the socio-economic structures of society, and yet, here we are, presented with a "new normal". In my country, Mexico, the effects were belated, but we too saw its disruptive effects in Latin America and the world.
According to the United Nations Economic Commission for Latin America and the Caribbean, this three-pronged crisis – sanitary, human and economic – will have unprecedented effects, including an increase on unemployment of 5.3 to 24.7 million people or more, the worst economic contraction in the history of Latin America with a projected -5.3% drop, and of course, all those who have died.
And to make things more dire, the pandemic is having the biggest impact in the most vulnerable groups, including the youth. This will widen the intergenerational inequalities gap and hinder the development and wellbeing of millions of young people.
Right now, we are in the most important crossroad humanity has ever faced since the end of the Second World War. In addition to the three crises mentioned above, COVID-19 has sped up the fracturing of globalization. We must also contend with the climate emergency and crisis of social justice.
The United Nations faces a Hydra and we can only defeat it through cooperation and multilateralism.
The UN has always worked for the peace and security of nations. Today, it should spearhead the creation of a new, sustainable, green, inclusive and fair world. There must be coordinated governance to deal with multiple crises and solve problems together. The UN could help governments create plans and strategies to recover from the pandemic and mobilise resources. Countries should share the knowledge of their best practices for recovery, as well as coordinate action to help developing countries since they are going to be greatly affected – in health and economic terms.
To do so, we need resilient strategies and inclusivity based on sustainable development, a gender lens and the youth – who can be catalysts of change.
But it's not only about economic growth. In fact, we must look beyond measuring wellbeing by GDP; we must include new indicators to have a more holistic view of human development and sustainability. For example, Kate Raworth has created an economic model in which humanity lives within social and planetary boundaries to create a safe and just 21st century. It is an inclusive perspective that puts humanity before economic growth, and promotes progress for everyone.
For our luck, we already have a roadmap: the Agenda 2030 and the Sustainable Development Goals.
This decade is crucial for the UN, as we must shift gears and turbo charge progress, so all the goals are addressed and no one is left behind.
But first, we must first address the SDG 13 on climate action. Climate change will bring unprecedented challenges if we don't act now. According to Christiana Figueres and Tom Rivett-Carnac in their new book The Future We Choose: Surviving the Climate Crisis, we have to change our "Business as Usual" path, because "it is no exaggeration to say that what we do regarding emissions reductions between now and 2030 will determine the quality of human life on this planet for hundreds of years to come".
Therefore, we need to change our paradigm to a green vision. According to the IMF's Kristalina Georgieva, if our world is to become more resilient "we need to do everything in our power to promote a green recovery". This means measures to emerge from the pandemic triumphantly while fighting climate change. COVID-19 is the crisis of the moment; climate change is the crisis of the century. Countries must use public support wisely and commit to a decarbonisation. They must promote green finance so we can mobilise investment in green technologies, such as renewable energy. And achieving the Paris Agreement should become a priority.
The UN must be the catalyst of this change. We have no other options; we need to rebuild and create a better future for all.
Photo: A winning photograph from #TheWorldWeWant, a global photo contest hosted and organized by mobile app Agora in support of the 75th anniversary of the United Nations © Md. Nafiul Hasan Nasim.