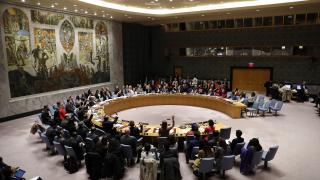 The 'landmark resolution' 1325 on Women, Peace and Security (WPS) adopted in October 2000 was celebrated and welcomed by feminists globally. Change was coming. It was, after all, the first time that the United Nations Security Council had directly addressed the subject of women, girls and armed conflict - not as a 'vulnerable group' but recognising women and girls' active participation in conflict prevention, relief, recovery and decision-making.
The UNSC Resolution called for gender mainstreaming and gendered perspectives to be considered in armed conflict and peace and security issues. This represented a win for the hard fought advocacy by feminists that stemmed back to the 1915 International Congress of Women held in the Hague, when they had called for 'complete disarmament and state control of the arms industry'. Some of those people went on to form the Women, International League for Peace and Freedom (WILPF) in 1919, and some 80 years later WILPF took the lead in pushing for the adoption of UNSCR 1325.
However, 20 years on progress is mixed. While some positive strides have been made, the ambitious aims of the resolution have not been achieved. In 2020, we are witnessing a continuous backlash against women and girls' rights. Women are still excluded from formal peace processes. Between 1992 and 2019 seven out of every ten peace processes did not include women mediators or women signatories. And in 2019, the United Nations documented 2,838 cases of conflict-related sexual violence, of which 96 per cent targeted women and girls.
Furthermore, progression of the Women, Peace and Security (WPS) agenda has also often been focused by actors on particular areas that speak to their interests. The increasing securitisation and co-opting of the WPS agenda run the risk of WPS becoming only about aspects of state security and is a real threat to any meaningful progress that is to be made. The WPS agenda must be dynamic, ambitious, flexible, and implemented holistically to make the connections to other intersecting issues such as climate change and the environment, anti-militarism and race. Otherwise we risk the practice of WPS being run by one idea only - securitisation.
For transformational change that will improve the lives of women and girls in the next 20 years and beyond, a commitment to funding is key. Last year with its partners, GAPS undertook eight consultations in Afghanistan, the DRC, Iraq, Libya, Nigeria, Somalia, South Sudan and the UK which fed into the report 'The 10 steps: From commitments to Implementation on the Women, Peace and Security agenda'.
This research outlined challenges that women rights organisations and civil society had faced and why progress on the WPS agenda was slow. Challenges cited ranged from lack of political will, lack of investment in gender expertise, no effective and meaningful gender mainstreaming in peace and security and most notably the lack of funding available and allocated to gender equality as well as dedicated funding to support and strengthen women rights organisations. Less than 1% of gender equality funding goes directly to women rights organisations and, when they do receive funding, it is often restricted to donor priorities and agendas.
The next 20 years offer a real opportunity for the WPS agenda to reflect on the reality on the ground for women and girls and make a connection to forgotten and emerging issues such as the impact of health crises like the COVID-19 pandemic. As the impact of the pandemic is increasingly felt, we expect to see and experience increased conflict and increased gender inequality. The WPS agenda can provide an essential framework for analysing and responding to emerging crises. Therefore, all actors need to work together to implement WPS principles and related international standards to ensure that existing gender inequalities are not exacerbated. This is particularly true at a time of compounding global crises.
The challenge of progress is tied up with the issues of funding, lack of political will and the question of who sets the agenda. Over the next 20 years, we hope that women's rights and civil society organisations will be recognised as the driving force for the agenda, for that is what they are.
Photo: Women, Peace and Security: Security Council Open Debate 2019. c. UN Women/Ryan Brown