breadcrumb navigation:
Home

/

Get involved

/

World Health Day
You are here: World Health Day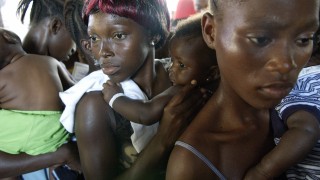 World Health Day- 7 April
Health is a birth right, but many children are born without it.  Since 1950, World Health Day has been celebrated on 7 of April annually following an agreement by countries of the United Nations. Each year a different theme is chosen to highlight a key area of concern for the United Nations body dedicated to health, the World Health Organization (WHO). 
Resources
Photo: Mothers line up with their children to receive polio vaccinations in Salamanca, Liberia. 10 November 2005. Salamanca, Liberia. UN Photo/Eric Kanalstein