breadcrumb navigation:
Home

/

Get involved

/

Mother Language Day
You are here: Mother Language Day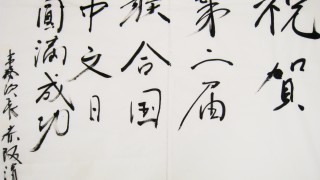 Mother Language Day - 21 February
The many different languages spoken across the world reflect how history has shaped the ways in which we speak and think today. The language we learn from earliest childhood – our mother language – helps to link new generations to the past. It is part of our heritage.
International Mother Language Day was established by the UN Educational, Scientific and Cultural Organization (UNESCO) in 1999 to celebrate languages and promote international understanding through multilingualism and multiculturalism. The date, 21 February, represents the day in 1952 on which three students from Dhaka University were killed during a demonstration calling for recognition for their language Bangla (also known as Bengali). 
Resources
Photo: A congratulatory message written in traditional Chinese calligraphy to celebrate Chinese Language Day 2011. (UN Photo/Lizhi Chen)