breadcrumb navigation:
Home

/

Get involved

/

Introduction
You are here: Introduction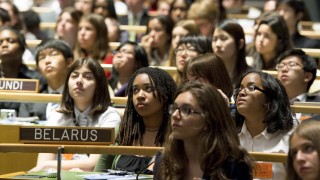 Introduction
The 21st Century will be dominated by challenges that require effective international action. Our globalised world has created opportunities – but it has also made us more vulnerable.
Young people are keenly aware of the benefits and drawbacks of our connectivity. A clever idea could go viral and attract global support. But climate change, pandemics and extremism also cross borders. From job creation to LGBT rights, the things that young people care about have a global dimension.
UNA-UK believes that young people in the UK should be equipped to navigate the opportunities and challenges our global world presents. They are eager to learn about the issues that affect them, to understand Britain's role in the world, and to find out how they can have an impact on the things they care about.
The United Nations plays a role in all of these things. It is the only global institution tasked with tackling the spectrum of challenges facing the world. It is an important tool for the UK in achieving its foreign policy goals, and a vital part of the country's international influence. The UK is involved in a host of UN activities and young people will not gain a rounded understanding of the UK's role in the world without learning about them.
The UN also offers citizens around the world opportunities to work with their governments to build a safer, fairer and more sustainable future.
International Days resource
Teaching about global issues can seem daunting. A  glance at the headlines reveals issues that governments – let alone young people – struggle to grasp. Finding accessible information about the UN and its work can also be challenging. To support learning about global issues, UNA-UK has worked with teachers and global education specialists to produce a new online teaching resource based on 'UN International Days'.
During the course of a year, the United Nations observes a number of 'International Days' to raise awareness of global issues and to encourage action by governments and communities. UNA-UK's teaching resource - International Days (UNA-ID) - aims to bring these issues to life in the classroom.
Created by teachers and tested in classrooms, the resource (UNA-ID) features materials on 29 International Days, with factsheets for teachers and 60-minute activities for primary-age children at Key Stage 2, and young people in Key Stages 3 and 4 at secondary school.
Following feedback from teachers, the factsheets are available online with links to multimedia resources, and the activities are available for download it Word format, so that they can be easily adapted. The resource can be used for standalone lessons or assemblies corresponding to the relevant UN International Day, or as a scheme of work throughout the year.
The materials have been designed to add value to the school curriculum as a whole, supporting statutory subjects as well as broader learning and developmental objectives.
Click here for information on curriculum links for England, Northern Ireland, Scotland and Wales