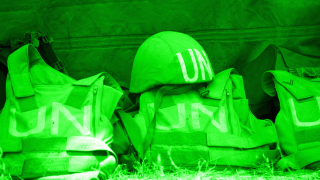 UN PEACEKEEPING
UNA-UK works to reform UN peacekeeping and to increase the UK's engagement with UN peacekeeping.
We believe positive action by the UK to strengthen peacekeeping creates a stronger UN and a better world.
At a time when political and financial pressures are putting missions at risk, the UK - which "holds the pen" at the Security Council for peacekeeping - needs to shepherd peacekeeping through this difficult time and push for the reforms necessary to make it fit for the 21st century. This includes designing people-centred missions; promoting greater transparency of the restrictions and caveats that states place upon the troops they contribute; and establishing accountability mechanisms to deal with sexual exploitation and abuse.
To make this case we work with a wide range of partners including Oxfam, Chatham House, the Royal United Services Institute (RUSI), the Civic centre for civilians in conflict and the Better World Campaign. Every year we work with our Westminster Branch and RUSI to deliver Europe's largest peacekeeping conference and memorial service. The thinktank "Providing for Peacekeepers" describes us as "the most consistently well-informed and vocal supporter of a greater UK role in UN peacekeeping".
You can find out more about our analysis and how we have been pushing the government and all political parties to take a leading role in these debates by looking at the links below.