You are here: Thinking globally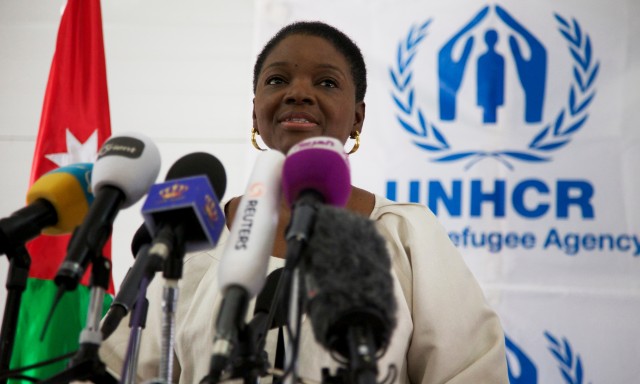 As we watch conflicts across the world proliferate with grave humanitarian consequences for the families and communities affected, we question more and more the role of the United Nations – an organisation which was set up to help deliver peace, security and stability after the Second World War.
Looking at the current global landscape, with conflicts in the DRC, Sudan, South Sudan, Israel and Palestine, Afghanistan, Iraq, Libya, Syria, Yemen, Somalia, northern Nigeria, Ukraine and elsewhere, we see UN member states' regional and national political priorities and interests getting in the way of achieving the political solutions necessary for the conflicts to end. And it is the people of those countries who continue to suffer.
Political paralysis
In Syria, the UN has stopped counting the number who have been killed. In the five years I was at the UN, coordinating the response to humanitarian crises around the world, the conflict in Syria dominated the political and humanitarian agenda. On my first visit in 2012, when I was trying to convince the Syrian Government that they had a crisis on their hands, we estimated that one million people needed assistance. Today, that figure stands at 13.5 million with nearly five million Syrian refugees and over six million displaced within their own country.
Today a military solution, the thing we all said was impossible, looks more likely than a political one. How did it come to this? How did we reach this political paralysis? It comes down to the inability of the five permanent members of the Security Council to agree on what needed to be done and by whom. I was in turn frustrated, angry and sometimes incredulous about the impact on the people affected, particularly children and women. All of us working on humanitarian issues knew that providing humanitarian aid helped people and kept them going, but that it is not a long-term solution.
And delivering aid was challenging and complex, with the proliferation of armed groups on the ground seeking to exert control. Often aid convoys had to pass through territory held by different groups. The Syrian Government did everything it could to withhold permission for the movement of convoys. Many thousands of humanitarian workers would risk their lives every day to try and deliver aid to those who needed it most. Whenever we have a humanitarian crisis in the world, we say "never again" – but we don't seem to be able to deliver on that promise.
A role for universities?
How can the UK help answer the challenge posed by crises like Syria? In my role now as Director of SOAS, University of London, I am interested in what universities can do to answer that question. A crisis like Syria requires a strong global response. We need people to care and to hold their governments to account. At SOAS, our students care – they want to be active global citizens. We are a university that studies the world from the perspective of the regions in which we specialise: Asia, Africa and the Near and Middle East. Our students today are tomorrow's leaders.
And there is our role as thought leaders. The research carried out by universities is invaluable. In a 'post-truth' era, it is even more important that our research contributes to an understanding of challenging global situations such as conflict and helps to inform policy solutions, for example, ongoing work on migration and displacement in the Horn of Africa and on gender and migration.
Universities can help students to learn to appreciate that our world looks very different from different countries and continents. We have an opportunity – but also a duty – to ensure the next generation continues to look beyond borders and embraces diversity. When considering today's burning issues – whether that's climate change, inequality, immigration or conflict – place matters. To be understood, issues need to be considered in their proper contexts.
And we need to learn from the mistakes of the history. Syria represents a massive collective failure.
Photo: Valerie Amos speaking at a press conference in Syria. Copyright UN Photo