You are here: Perspectives: Syria's stakeholders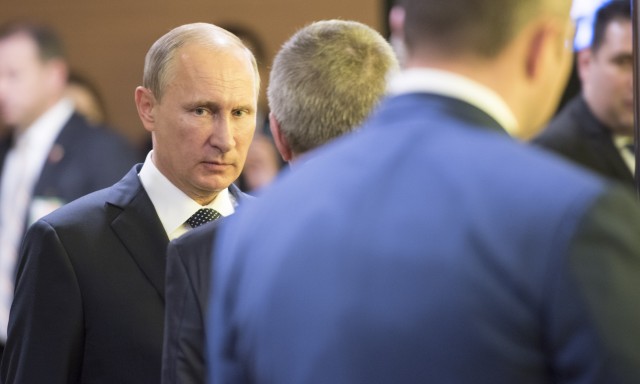 IRAN
Syria's strategic value for Iran has evolved over the course of the conflict. Syria and the Assad regime have long had instrumental worth for Iran as an essential conduit for access to Hezbollah. In the aftermath of the 1979 revolution, Hezbollah has served as Iran's ally in achieving strategic security depth towards Israel and the US. In recent years, Iran and Hezbollah have become increasingly interdependent on security issues.
The transformation of the conflict into a proxy theatre for regional and international powers has motivated Iran to support the Assad regime to make greater gains on the ground as a means of turning this into political capital with regional and global powers.
Iran's decision to allow Russian troops to use its Shahid Nojeh Air Base in Hamadan was an unprecedented move by the Islamic Republic, and further testament that securing the upper hand in Syria is crucial to Tehran's regional foreign policy.
Syrian opposition groups and their backers have hoped for a Russian-Iranian split to emerge over the question of Assad. But so far, they have remained united in viewing Assad as indispensable for holding the Syrian state and their interests together.
Against this backdrop, Iran has insisted on devising a trilateral ceasefire mechanism, together with Russia and Turkey. As demonstrated by the recent Aleppo evacuation deal, any measures towards ceasefires, humanitarian access or a political track which seeks to exclude Iran are likely to be difficult to guarantee and implement given the weight that Iran has on the ground in Syria.
Contrary to expectations that domestic support would diminish the longer the war continued, the surge of ISIL has led to greater internal backing to Iran's activity in Syria
Ellie Geranmayeh, Senior Policy Fellow, Middle East and North Africa Programme, European Council on Foreign Relations
IRAQ
Though much of the world continues to view the linked crises in Syria and Iraq as part of a broader Sunni versus Shia war that dates back millennia, the realities on the ground tell a very different story. In Iraq, a US-led global coalition and Iran are assisting the Iraqi Government and an assortment of Shia, Sunni and Kurdish forces to defeat ISIL. In Syria, although the various armed opposition groups are almost exclusively Sunni, they are mostly fighting each other and against a Russian- and Iranian-backed majority-Sunni Syrian army.
As ISIL is defeated militarily, it will be intra-sectarian and intra-ethnic conflicts that will define the stabilisation process. One thing that has become clear in both Syria and Iraq is the need for decentralisation to empower local communities and prevent another ISIL from exploiting the security vacuum.
The brutal nature of the armed conflict and genocidal campaigns has also meant that communities and minorities now refuse to go back to not being able to defend their own homes and neighbourhoods from jihadist groups whilst weak central governments are unable to protect them.
However, the implementation of decentralisation has to be carefully calibrated. The process itself is complicated due to the widely-held belief in both Syria and Iraq that Western powers – and some regional states – want to see these countries divided and carved up along ethno-sectarian lines. Decentralisation is necessary in both Syria and Iraq, and there is a golden opportunity for the international community, through the United Nations, to play a positive role in guiding the process. But if the implementation is not coordinated with the central governments in both Damascus and Baghdad, it will further fuel the conflicts as opposed to solving them.
Hayder al-Khoei, Research Director, Centre for Shi'a Studies; doctoral researcher, Middle East Politics, University of Exeter
ISRAEL
'Best of luck to both sides' is how Israel initially viewed the Syrian civil war. The sentiment contained a strong conviction against intervention and a strategic question: what was better for Israel, a hostile Assad regime who had nevertheless kept the Israeli-Syrian frontier quiet for four decades ('the devil you know') or an opaque, jihadist-heavy Syrian opposition ('the devil you don't know')?
With Assad's quick defeat proving overly optimistic, Israeli policy in recent years has shifted to defending three red lines. First, Israel would not allow Hezbollah to obtain and transfer (via Syria) advanced missile systems. Second, Israel would not allow Hezbollah and its Iranian patron to use the vacuum in southern Syria to establish a terrorist base for attacks against the Israeli-held Golan Heights. And third, Israel would maintain its freedom to act in and over Syria through a direct deconfliction mechanism with Russia.
Israel also runs a significant humanitarian aid operation across the Israeli-Syrian border. A few thousand Syrians, including reported rebel fighters, have received medical care in Israeli hospitals. This reflects a clear moral imperative as well as military logic: to win the 'hearts and minds' of Syrian communities to forestall Hezbollah and Iranian gains in the area.
In any international 'grand bargain' over Syria, Israel can be expected to press both Washington and Moscow to oppose any permanent Iranian and Hezbollah presence in the shattered country. The carnage next door has only reinforced Israel's 'villa in the jungle' mentality (as a former defence minister put it). This does not augur well for future territorial concessions – including improbably the occupied Golan Heights – or, indeed, the trust necessary to reach a peace deal with the Palestinians.
Neri Zilber, journalist and researcher, Middle East politics; Adjunct Fellow, Washington Institute for Near East Policy; Research Associate, Rubin Center, IDC Herzliya
LEBANON
Hezbollah's full-fledged intervention in Syria since May 2013 has yielded it remarkable gains: it saved the then-crumbling Assad regime, an ally that the party sees as essential to its survival. It has also taken control of most of the Syrian-Lebanese border, securing its vital weapons supply line and reducing attacks from rebel-held areas against the party's fighters and popular base in Lebanon.
More importantly, Hezbollah has metamorphosed because of the Syrian war. From a Lebanese-centred movement dedicated to fighting Israel, the party has now turned to fighting Sunni jihadists – a switch that it presents as a continuation of its resistance against Israel. Hezbollah has put itself in the middle of a regional sectarian conflict against, for the first time, an Arab foe. It has also expanded its logistical and advisory support to Shi'ite militias in Iraq and Houthi rebels in Yemen.
Its new profile has sparked support and pride, as well as fear and hatred. Lebanon's Shi'ite community, worried by the rise of Sunni jihadists in Syria, has closed ranks behind Hezbollah. Despite sporadic outcries and nostalgia for when the party was acclaimed as an 'Arab hero', most Shi'ites consider Hezbollah's fight as a necessary evil. In the longer term, however, its participation could backfire: its role has galvanised its internal and external foes; intensified the Lebanese and regional sectarian divide; exacerbated the very Sunni extremism the movement aims to curtail; radicalised its own base; and provoked hostility among previously supportive constituencies in Lebanon and abroad.
Hezbollah and its allies might currently be on the winning side. Yet Syria's war is far from over and its impact is yet to play out – both in Lebanon and across the region.
Sahar Atrache, Senior Analyst for Lebanon, International Crisis Group
PALESTINE
The horrendous violence that has been unleashed in Syria is not entirely Syrian-made. It has evolved into a proxy war with the participation of regional and international players, creating unimaginable suffering and destabilising the whole region.
The brunt of the suffering has been borne by ordinary Syrians, who are witnessing a relentless assault on their lives, rights, lands, homes and cultural heritage, leading to a sense of hopelessness and a desperate attempt to find refuge. The Palestinian refugees in Syria – mainly in Yarmouk and other refugee camps – have also been hard hit with nowhere to go and no chance of returning to their homeland.
With Syria as the focus of global attention, the Palestinian issue has been largely side-lined. Israel used the Syrian tragedy as an excuse to continue its nearly 50-year-old military occupation of our lands, claiming that it cannot withdraw due to the risk of instability. In addition, Israeli leaders have been trying to turn the Arab Peace Initiative on its head by bypassing Palestine and normalising relations with other Arab countries to exploit the 'Sunni-Shia divide'.
In Syria – as in Palestine – the international community must work for a peaceful solution based on international law and respect for human rights, and restore the sovereignty of both states. Syria's fragmentation into ethnic- and religious-based statelets, and Israel's attempts to create isolated Palestinian 'bantustans', are lethal for the region and beyond. In Syria, as in Palestine, there is no military solution.
The UN must demonstrate courage and leadership in resolving these crises, as extremist ideologies thrive on the continued injustice. By addressing the causes of these traumas, the international community can begin an historical process of rectification and redemption.
Hanan Ashrawi, Palestinian leader, legislator, activist and scholar; former spokesperson, Palestinian delegation to the Middle East Peace Process
RUSSIA
The biggest mistake people make about Russia's policy on Syria is thinking that it pushed the crisis in Ukraine to the side. Ukraine remains top of Moscow's foreign policy list and will become even more important as President Putin's election campaign goes into full swing.
That said, Syria remains important for Russia not just as a symbol of its return as an international player. 'Losing Syria' could result in a gas pipeline from Qatar to Europe, pushing out Russia from that lucrative market – a horrifying prospect for the Kremlin and the bosses of gas and oil giant Gazprom.
Putin considers that Russia and Iran have been successful in their campaign to keep Assad's regime, giving it a huge boost by liberating Aleppo and turning Turkey into their ally. The political process on Syria initiated by the three countries is going on in Kazakhstan, with the Syrian Government conducting it from a position of strength. Assad, as Moscow sees it, will lead the transition – he may even be able to select his successor and work out international guarantees to preserve Syria's unity before standing down.
The UN's role in Syria was seen by Moscow as disappointing in 2016 but that's not to say that Russia's support for the international community has wavered. Russia will soon try to seal its success with some sort of UN approval and participation.
Now, a lot will depend on whether the noises in Washington about a joint effort with Russia in fighting ISIL will materialise. If that happens, the Kremlin will feel emboldened to resolve the pressing issue of the conflict in eastern Ukraine and work out a solution over Crimea – something that Putin will want to show voters before election day.
Alexander Nekrassov, former Kremlin advisor; former investigative journalist
SAUDI ARABIA
From the beginning of the conflict, Saudi Arabia insisted on the removal of Syrian President Assad as a precondition for peace. While the fate of Assad should have been left to the Syrian people to decide at a later stage in negotiations, the Saudis' early involvement made it difficult for compromise to be achieved.
The logic behind the Saudi position is perhaps related to two factors. First, the atrocities committed by the Syrian regime made it almost impossible to convince the Saudi-backed warring factions to accept a solution that did not involve Assad's departure. Second, Saudi Arabia saw Assad as Iran's man in Damascus. His removal, the Saudis thought, would create a stumbling block in Iranian expansion and separate its two spheres of influence: Iraq to the east and Lebanon to the west. However, the Saudis underestimated the scale of Iranian and, later, Russian interventions on behalf of the regime. The Saudi dream of swiftly removing Assad became a nightmare that the Syrian people have endured.
Saudi policy on Syria has been driven by its losses in the Levant. Since 2003, it lost its acumen in Iraq after the American-led invasion toppled Saddam Hussein. Three years later, Saudi Arabia's influence began to be eroded in Lebanon after the regime criticised Hezbollah for provoking the 33-day Israeli war on Lebanon.
It remains to be seen whether Saudi Arabia will give up on weaning Syria from Iran and its various militias. Its fixation on removing the President can only prolong the Syrian crisis. It is time for all regional powers and their international backers to end the saga. The international community, through the UN, is best suited for this task.
Madawi Al-Rasheed, Visiting Professor, Middle East Centre, London School of Economics and Political Science
SYRIA
The governance void precipitating from the Syrian conflict has had one positive effect: a newly born civil society, invested in building equitable governance. The space for this civil society is now shrinking due to violence and inadequate support. How can it be protected?
First, the international community should impose strict measures on warring groups that target activists and treat the social services they provide as war tools. Furthermore, international mediators could impose conditions within peace agreements that include civil society actors at higher negotiation and decisionmaking levels.
Enabling civil society space means ensuring its economic security. Syria's civil society is trapped in a cycle of short-term projects, leaving it financially vulnerable and incapable of planning strategically. The international community should invest in longer-term core funding and share some risk in vetting and extending funds to citizens in Syria, who are otherwise sanctioned due to anti-terrorism legislation.
Just as important is supporting Syria's civil society to take up its own agency. Many international NGOs have responded with 'good governance' training to improve management of local councils to ensure accountability and transparency. Yet this training deserves a more tailored approach, applicable to local culture and context.
'Good governance' should also apply to international NGOs, governments and multilateral actors in Syria. They need to be transparent with locals about their spending and plans in Syria and to be accountable to them, too. They also need to practice what they preach in regards to human rights, especially relating to protection of civilians and justice. Only then can they bring hope, which drives locals towards rebuilding governance based on international norms rather than resorting to extremist ideals – a more attractive alternative to 'just talk and diplomacy'.
Rana Marcel Khalaf, independent research consultant; Academy Associate, Chatham House
Photo: Vladimir Putin, President of the Russian Federation. Copyright UN Photo/Mark Garten