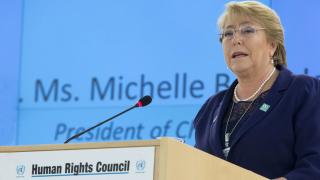 On 1 September Michelle Bachelet will start work as the seventh UN High Commissioner for Human Rights – the UN's top human rights official. She replaced Zeid bin Ra'ad Zeid al-Hussein whose term of office expired on 31 August.
UNA-UK's Executive Director, Natalie Samarasinghe, said:
"On behalf of all of us at UNA-UK I'd like to thank the former High Commissioner for his four years of brave and principled service, and for taking the message of the powerless to the powerful
"Ms Bachelet is a strong choice. She has experience at the highest level of government, at the highest level of administration within the United Nations, and of working with civil society under the shadow of oppression
"UNA-UK was delighted that the Secretary-General issued a public call for nominations and explicitly asked for civil society nominations. We were also pleased to hear, although it has not yet been officially confirmed, that external experts were on the interview panel
"Ms Bachelet was one of the first names mentioned in connection to the role, many months ago, before the process was publicly launched. Yet the appointment has taken place under unprecedented time pressure, with her now having just three weeks to prepare for the role – less than any previous High Commissioner. We will continue to ask questions about the process, whilst respecting the need for confidentiality, in order to update our checklist, which set out the elements necessary for a robust, transparent and inclusive process. 
Please check out our campaign hub for facts, resources, commentary and history regarding this important role. 
Image: UN Photo/Jean-Marc Ferre