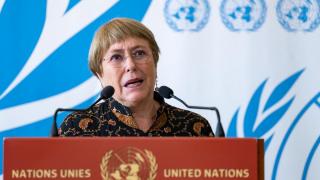 On Monday 13 June UN high commissioner for human rights Michelle Bachelet announced she will not seek a second term.
This unsurprising news - no high commissioner has ever served a full second term - now means that UN Secretary-General António Guterres has less than two months to find the best person for this critical job.  
The search must begin now. This appointment matters hugely and is taking place at an immensely challenging time. Human rights abuses are on the rise across the world while defenders are attacked on the ground. Repressive leaders continue to be emboldened while traditional supporters of rights appear to be in retreat at the UN. Against the backdrop of the ongoing Covid-19 pandemic, escalating violent conflicts, and the proliferation of global food, debt and energy crises, there is significant risk that UN member states will not give this appointment sufficient attention, or worse, that they will seek to block good candidates.
In this context, it is therefore more important than ever that the appointment process for the next human rights chief is open and meritocratic, with civil society included from the outset. By ensuring this, the postholder and their office will have greater independence, legitimacy, and a stronger mandate to act on the urgent human rights issues the world faces.
At present, UNA-UK is deeply concerned about the ever shrinking window of time to carry out such a process or to find the strongest field of candidates. 
In 2018, Michelle Bachelet faced the shortest window for preparation in the history of the role - commencing her post on 1 September, just 21 days after her appointment by the General Assembly on 10 August. On that occasion, the recruitment call was issued on 11 June, with a deadline of 11 July.  As of today, 20 June, the process is nine days behind that historically constrained schedule. 
In 2018 the first step taken was to issue a note verbale to member states, outlining the call for applications and the job description, including details of the application deadline. This was not only circulated to member states, but published publicly on the senior appointments section of the UN website. 
UNA-UK calls on Mr Guterres to publicly set out his plans for the recruitment process, beginning by circulating a note verbale and job description as soon as possible. We also call on him to follow the precedent he set in 2018 to not only send the note to member states, but also to put out a call to "non-governmental organizations, national human rights institutions and regional organizations for the nomination of women candidates and to the public to encourage women candidates to apply to the vacancy". Additionally, during the 2018 recruitment process external experts were present on the interview panel - this approach should be repeated. 
Read more:
Photo: Michelle Bachelet, United Nations High Commissioner for Human Rights, briefs reporters on the opening of the 50th regular session of the Human Rights Council (13 June – 8 July 2022). Credit: UN Photo/Jean Marc Ferré