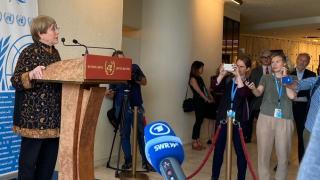 On Wednesday 22 June, UNA-UK joined more than 60 civil society organisations from across the world in calling on UN Secretary-General António Guterres to ensure an open, transparent and merit-based process for appointing the next UN High Commissioner for Human Rights (UNHCHR).

The open letter, co-ordinated by Amnesty International, Human Rights Watch, International Commission of Jurists (ICJ) and International Service for Human Rights (ISHR), stresses the need for the position to be filled by a human rights champion who is courageous and principled.
High Commissioner Bachelet announced she will be stepping down after this term. Given that her mandate will end on 31 August 2022, it is imperative that the appointment process moves quickly. 
The post of High Commissioner for Human Rights is critical to the promotion and protection of human rights globally, particularly at a time when human rights standards and mechanisms face enormous pressure from powerful governments. 
The letter urges the Secretary-General to identify an outstanding candidate through a consultative process, and vigorously defend the independence of the Office of the High Commissioner, including through adequate resourcing: 
The process of nominating the next High Commissioner is critical to identifying the most qualified candidate and ensuring the credibility of their appointment. This process should be open, transparent and merit-based. It should involve wide and meaningful consultation with independent human rights organisations and human rights defenders.
You can download the open letter here.
Read more:
Photo: UN High Commissioner Michelle Bachelet speaking to the media after giving an update to the Human Rights Council, confirming that she will not seek a second term. Source: UN Human Rights Council's twitter.