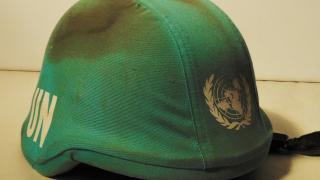 The UN Secretary-General today hosted a meeting at which he launched his "voluntary compact" between states and the UN, pledging a new approach to dealing with the issue of sexual exploitation and abuse by UN peacekeepers.
The five-page compact commits the UN to providing more assistance to victims of abuse, to working with member states to build capacity and to strengthening investigation and accountability mechanisms. In return the UN requests states to pledge to cooperate with the UN, to conduct thorough screening and to implement accountability measures, including reforms to domestic law, to ensure that they can hold perpetrators to account.
We welcome this initiative, which should yield practical progress whilst focussing attention on the key issue of ensuring that states that contribute troops are able to control them and, crucially, to prosecute them if they commit acts of sexual violence. While it is voluntary, the compact should also help to determine which states show the willingness and ability to take this issue seriously. We also recognise that it is ambitious and technical, and some of its proposals - particularly around DNA testing and screening - may prove challenging to implement.
Our hope is that over time the compact will influence "force generation": in other words, that the UN and contributing states can work together to create peacekeeping missions that are largely or ideally exclusively staffed by troops from states that signed the compact. This will require significant political will, both to persuade states to take the steps required to sign the compact and to persuade those that have to make meaningful troop contributions to UN peacekeeping.
However, as with previous UN initiatives our view is that these reforms will only be effective if backed up by strong action to ensure that states that contribute troops can and will prosecute instances of sexual violence. That is the purpose of our Mission Justice campaign.
Today we are launching an updated version of our action plan. Called "2272+", it calls on the UN Security Council to implement existing Resolution 2272 and build upon it with new measures designed to prevent states from participating in peacekeeping unless they can demonstrate the willingness and ability to prosecute individuals who commit acts of sexual violence. Such a move would mean that peacekeepers would know that they face criminal sanction if they commit sexual crimes. This would change the culture of missions and give survivors opportunities for justice.
Photo: a blue helmet with a tinge. Available via creative comms from "RenseNBM".