You are here: UNA-UK launches a year of foreign policy debate at UN Forum
30 June 2014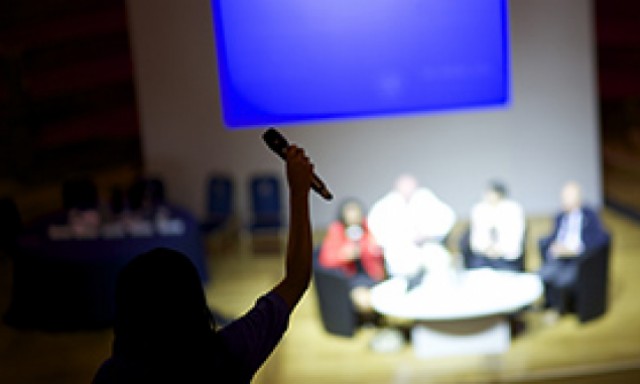 Genuine public debate on global issues is both crucial and lacking. On Saturday 28 June, UNA-UK addressed this problem by holding one of the UK's biggest live debates on foreign policy to have taken place in recent years: UN Forum 14.
Held in the same room as the inaugural General Assembly meeting in 1946, Central Hall Westminster, UN Forum brought together top UN and UK policy-makers, experts, campaigners, journalists and some 1,000 people from across the country to ask – and answer – the question 'Can Britain still cut it on the world stage?'. 
During the day the audience had the opportunity to grill influential speakers via interactive panel discussions examining the following challenging questions: Why should the British public care about the UN? Do nuclear weapons really keep us safe? How should we respond to crises? Is our approach to development flawed?
Click here for round-ups of these debates
Baroness Valerie Amos, UN humanitarian chief, used her keynote speech to share the stories of those affected by crises around the world, each one underlining the vital need for UN member states to put humanitarian needs ahead of politics and for the international community to work together to respond to crises.  During the subsequent debate with Jon Snow, Baroness Amos highlighted the devastating impact of conflict in the Central African Republic as a situation suffering from a lack of international support and media attention.
The afternoon featured a speech from H.E. Dr Danilo Türk, President of Slovenia (2007-2012) and former UN Assistant Secretary-General for Political Affairs, followed by an interview conducted by UNA-UK's Chairman Sir Jeremy Greenstock.  Dr Türk talked on a broad range of issues from the situation in Ukraine to the post-2015 development agenda, before going on to speak about the future of the UN.  On this matter he singled out the appointment process of the UN Secretary-General as a key opportunity for UN reform, advocating a move to a more meritocratic and transparent system.
Click here for UNA-UK's briefing on the appointment process of the UN Secretary-General
UN Forum launched a year-long programme to improve the level of public debate on foreign policy issues ahead of the 2015 general election. Over the coming months, UNA-UK will launch a foreign policy 'manifesto', taking forward ideas generated at the Forum, and will work closely with its members and supporters to ensure global issues are high on the political agenda in support of an active and engaged Britain 'on the world stage'.
Click here to view photos from the day
Click here for the full UN Forum programme
Click here to read the vibrant online discussion that took place on Twitter
Watch a video of the event here
More on Climate and development