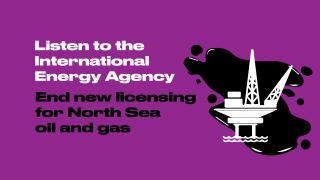 UNA-UK has joined 50 civil society organisations calling on the UK to show international leadership on ending fossil fuel expansion and help to get the world on track to meet the Paris Climate Agreement.
On 18 May, the International Energy Agency (IEA) published its first ever full scenario report on limiting global warming to 1.5°C. They concluded that from 2021 there should be no more development of new oil, gas, or coal production globally - further expansion of fossil fuel supply is incompatible with global climate security.
In an open letter to Prime Minister Boris Johnson, Secretary of State for Business, Energy & Industrial Strategy Kwasi Kwarteng and Energy Minister Anne-Marie Trevelyyan, the UK Climate Coalition urged the government to listen to the IEA report and end all new licenses for North Sea oil and gas.
Specifically, it calls for the UK government to:
Stop immediately and irrevocably the issue of any new licenses to explore for and extract oil and gas in the North Sea. 
End subsidies (direct and indirect) for oil and gas extraction (including the current exemptions for public finance through PIDG and CDC).
Make a plan to deliver a managed and equitable UK energy transition. This should involve extensive engagement with oil and gas workers, trade unions and affected communities, and include major investment in skills and training.
End the policy of Maximum Economic Recovery (MER) for the North Sea, replacing the Oil and Gas Authority's legal mandate with one that aligns the sector with a 1.5°C pathway. This must  account for the UK's historic responsibility for emissions, and an obligation to take the lead as a developed nation.
UNA-UK urges the UK to lead by example in 2021 as it prepares to host the G7 in Cornwall (from 11-13 June) - and ahead of COP26 in Glasgow in November. The G7 conference has been billed as an opportunity for the UK to "unite leading democracies to help the world fight, and then build back better from coronavirus and create a greener, more prosperous future". 
However, ahead of the G7 UN Secretary-General António Guterres said he was concerned that wealthy nations have spent billions of dollars more on fossil fuels than green energy during the pandemic.
It's now clear we are coming to a point of no return. To spend these trillions of dollars and not use this occasion to reverse the trends and massively invest in the green economy will be an unforgivable lost opportunity.
The pandemic has shown that huge transformations are possible when political will is combined with public support and backed by evidence and funding. It has also shown that to succeed, the world needs cooperation across borders, sectors and generations; across all of society. 
For expert insight on implementing the Paris Agreement, see UNA-UK's 2020 Climate report, the fifth in our series of major reports on implementing the Paris Agreement. 
Take action from home
UNA-UK is a proud member of the Climate Coalition. Read the Climate Coalition's Climate Declaration and use your voice to tell politicians that you want a cleaner, greener, fairer future at the heart of plans to rebuild a strong economy.
Read more: