You are here: UNA-UK calls for urgent progress at UN talks on killer robots
13 November 2017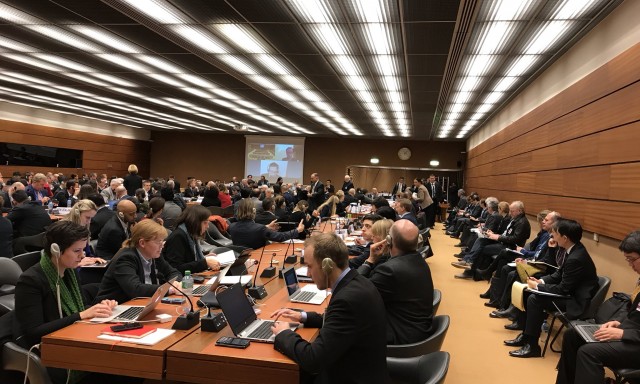 **An update to this article featuring a response from UK Government has been featured at the bottom**
This week states convene in Geneva to discuss Lethal Autonomous Weapons Systems (LAWS), also known as "killer robots".
While these weapons do not yet exist, the absence of regulations governing LAWS coupled with the pace of technology is giving rise to the prospect that killer robots will soon be a reality, with devastating consequences for ethics, human rights and humanitarian law.
Ahead of the meeting, UNA-UK, together with Article 36, wrote to the UK Government, urging it to work with a sense of urgency on this issue. The letter challenges the UK's definition of LAWS, which the UK acknowledges differs from those of other states, and makes the case for international consensus to be built:
The UK's recent acknowledgment that its definition of a 'lethal autonomous weapons system' differs from those of other states, as contained in the Ministry of Defence (MoD)
publication on Unmanned Aircraft Systems
, highlights the need for international consensus to be built on this issue. Reaching such consensus is squarely in the national interest given the risks that would be posed to international peace and security by the deployment of such systems either within or outside theatres of armed conflict.
We are concerned that by defining LAWS as weapons with a hypothetical "ability to understand higher-level intent", the UK is effectively giving a green light for the development of future weapons systems with an unacceptably high degree of autonomy. The MoD publication also missed an opportunity to address the range of ethical, human rights and humanitarian law challenges posed by LAWS.
This week's meeting of the Group of Governmental Experts (GGE) represents the CCW's first formal talks on killer robots; but progress until this point has been slow. The GGE has been preceded by years of informal discussions and, more recently, delays caused by funding shortfalls to the CCW.
Prominent figures from the technology industry, led by Tesla's Elon Musk, recently warned that "we do not have long to act", stating that lethal autonomous weapons could usher in the "third revolution in warfare" after gunpowder and nuclear weapons.
UNA-UK hopes that the discussions will lead to the acceptance later this month of a firm mandate to begin negotiating a framework to regulate LAWS in 2018. Pre-emptively banning inhumane weapons before they are acquired or used is a tried and tested route exemplified by the 1995 CCW protocol banning blinding lasers.
As a permanent member of the UN Security-Council and a strong advocate for the multilateral system, the UK is in a position to increase the pace of discussions on this issue to help ensure a global standard is agreed before it is too late.
UNA-UK is a member of the Campaign to Stop Killer Robots.  Follow @BanKillerRobots and #CCWUN on twitter for live updates from Geneva. 
Update
On 8 December 2018, UK Government replied, stating that "the UK does not judge that our definition of LAWS permits development of future weapons systems with an unacceptably high degree of autonomy. The UK assesses that existing International Humanitarian Law is sufficient to control and regulate LAWS. Whatever the characteristics of such weapons they would not be capable of satisfying International Humanitarian Law in the critical areas of proportionality and discrimination, and it is therefore highly likely they would be de facto illegal under existing regulations."
Read the full reply here
Image: Delegates attending CCW meeting in Geneva, photo credit: Campaign to Stop Killer Robots