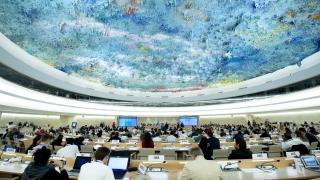 On 4 March 2022 the UN Human Rights Council (HRC) passed a resolution to establish a Commission of Inquiry on Ukraine. 
The Council expressed "grave concern" at the escalating human rights and humanitarian crisis in Ukraine, condemning the violations of human rights and of international humanitarian law resulting from the aggression against Ukraine by Russia.
Following two days of urgent debate on Ukraine, the resolution passed with 32 votes in favour,  two against (Russia and Eritrea) and 13 abstentions. This follows the UN General Assembly's historic vote condemning Russia's invasion of Ukraine.
The Council decided to urgently establish an independent international commission of inquiry, comprising three human rights experts to be appointed by the President of the HRC. The inquiry will be mandated to investigate all alleged violations and abuses of human rights, violations of international humanitarian law, and related crimes in the context of Russia's aggression against Ukraine. 
The human rights experts will:
Collect evidence of violations and identify individuals and entities responsible 
Provide an oral update to the Human Rights Council at its 51st session, to be followed by a comprehensive written report at its 52nd session
Submit a report to the General Assembly at its 77th session on their findings and recommendations
This resolution follows the International Criminal Court's (ICC)'s announcement of an investigation into the situation. ICC Prosecutor, Karim A.A. Khan QC, following referrals from 39 ICC States Parties, opened an investigation on 2 March. It will look at any past and present allegations of war crimes, crimes against humanity or genocide committed on any part of the territory of Ukraine by any person.
UNA-UK echoes the UN High Commissioner for Human Rights' call for a ceasefire. There have been significant levels of civilian casualties and injuries - including many children - and millions more are in mortal danger in Ukraine. We reiterate our call for all parties to both protect civilians and to facilitate safe, rapid and unhindered humanitarian access.
As the humanitarian crisis escalates, we again call on the UK to urgently set out its intention to uphold its international obligations by offering to accept significant numbers of refugees and those seeking protection. In addition we would urge the UK to outline a strategy for discouraging Russia from committing atrocities such as the deliberate targeting of civilians, indiscriminate use of high explosives in built up areas and by outlining what further measures they would take in response to repeated such instances.
Read more
Photo: A wide view of the Human Rights Council. Credit: UN Photo/Jean Marc Ferré