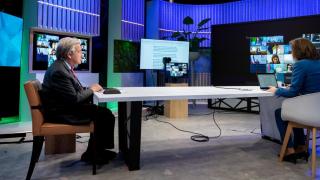 As the conflict in Ukraine escalates, the devastating consequences for civilian populations and the extent of the humanitarian crisis is becoming ever more stark. According to the UN Refugee Agency, this is likely to become "Europe's largest refugee crisis this century".
It is estimated that 12 million people inside Ukraine will need relief and protection, while more than 4 million Ukrainian refugees may need protection and assistance over the coming months.
In the last seven days, around 1 million people have been forced to leave their homes and seek refuge outside of Ukraine, according to data compiled by the UN Refugee Agency. Most have fled to bordering countries - Poland, Hungary, Moldova, Romania, Slovakia – who are struggling to respond to the overwhelming needs of those displaced and conflict affected people.
UNA-UK spoke with representatives from UNA Poland on 27 February, who had recently visited the border to donate much-needed supplies. The majority of arrivals are women and children from all parts of Ukraine, many of whom have queued for miles in freezing temperatures in order to cross the border into safety.
UN High Commissioner for Refugees, Filippo Grandi, said: "While we have seen tremendous solidarity and hospitality from neighbouring countries in receiving refugees, including from local communities and private citizens, much more support will be needed to assist and protect new arrivals."
How can we help?
The UK's track record on supporting those fleeing conflict is mixed. While the UK tends to be a generous financial donor to humanitarian efforts, especially through the Refugee Agency, we shoulder a tiny proportion of the burden of those in need through resettlement here in the UK. The decision to cut UK overseas aid from 0.7% to 0.5% - a 29% reduction - as well as the, controversial proposed Nationality and Borders Bill, raise further questions about the UK's humanitarian commitments.
UNA-UK has written to all our supporters to encourage donations directly to the emergency Ukraine appeals set up by UN Refugee Agency or OCHA to provide much needed support to those in need.
We are also advocating for the UK government to do more to support those fleeing the violence and seeking sanctuary, by immediately creating visa-free pathways for Ukrainians seeking protection.
Read more
Photo: Secretary-General António Guterres (left) launches a Humanitarian Flash Appeal and a Regional Refugee Response Plan for Ukraine. Credit: UN Photo/Mark Garten