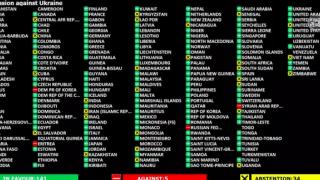 On 2 March the UN General Assembly voted overwhelmingly to condemn Russia's invasion of Ukraine. 
141 member states voted in favour of the Resolution entitled "End Aggression Against Ukraine", with just four states joining Russia in opposing it: Belarus, Eritrea, Syria and North Korea. 35 states including China, India and South Africa abstained in the vote. The strength of the outcome was widely seen as having exceeded expectations and the Resolution passed, having comfortably satisfied the required threshold of two-thirds of member states present and voting.
Click here for a full readout of the vote
The Resolution deplores "in the strongest terms" Russia's aggression against Ukraine while demanding that Russia immediately cease its use of force, and completely and unconditionally withdraw all of its military forces from within Ukraine's internationally recognized borders. The Resolution also reaffirms Ukraine's sovereignty and territorial integrity, and demands that Russia immediately and unconditionally reverse the decision related to the status of certain areas of Donetsk and Luhansk regions of Ukraine. 
UNA-UK welcomes this historic outcome, which took place at an Emergency Special Session of the General Assembly under the auspices of the "Uniting For Peace" mechanism. It is a clear condemnation of Putin's act of aggression by a huge majority of states including many with close relations to Russia. The vote shows the level of isolation that Russia is facing and we hope it paves the way for stronger action to raise the political, legal and financial costs of Russia's actions. 
UNA-UK also welcomes the Resolution's condemnation of Russia's decision to increase the readiness of its nuclear forces - a position UNA-UK has been advocating directly to member states for inclusion in this Resolution. As mentioned in our statement, we reject in the strongest possible terms Russia's escalatory actions and language relating to nuclear weapons - the threat of the mass murder of millions of civilians can never be justified and must always be called out.
The United Kingdom was a co-sponsor of the Resolution, along with 95 others, and voted in the Security Council to refer the issue to the General Assembly.
Read more:
Photo: Full readout of the vote on Res. A/ES-11/L.1. Source: Passblue