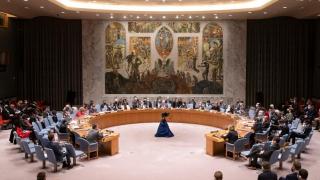 UNA-UK condemns Russia's decision to launch a full-scale invasion of Ukraine - in clear contravention of the UN Charter. This unprovoked and unjustifiable military action is an appalling violation of international law and risks unacceptable human suffering. UNA-UK echoes the UN Secretary-General's appeal to President Putin to withdraw Russian troops from Ukraine and reverse this deadly course of action, in the name of humanity. 
This act of hostility has grave implications for the safety of tens of millions of peaceful Ukrainian citizens whose country is under attack, while also threatening peace and security in the region and beyond. We urge the international community to stand with Ukraine and pursue an immediate end to this violence and mobilise a full humanitarian response. Russia must be made aware that the world is not just watching, but acting in concert to exact a significant cost for its actions, while documenting evidence of human rights violations and atrocities to hold those accountable when the conflict ends. UNA-UK rejects in the strongest possible terms Russia's escalatory actions and language relating to nuclear weapons - the threat of the mass murder of millions of civilians can never be justified and must always be called out. 
UNA-UK calls on all parties to both protect civilians and to facilitate safe, rapid and unhindered humanitarian access. We are encouraged that the UK has committed to offering ongoing humanitarian assistance to Ukraine. However, we call on the UK to clearly set out its intention to uphold its international obligations by offering to accept significant numbers of refugees. In addition, we would urge the UK to outline a further package of robust sanctions to bring pressure to bear on Moscow. 
At the UN, Russia's position as a permanent member of the UN Security Council means that we must look to other forums within the organisation - the General Assembly and the Human Rights Council - to hold it to account. Member states could consider invoking the Uniting for Peace mechanism, which we have called on member states to use more effectively in instances when the UN Security Council is unable to take definitive action on issues of peace and security. Such an approach would demonstrate to Russia that violating the UN Charter comes at a cost to their position of privilege within the UN. This could provide an opportunity for broad global condemnation of Russia's breach of international law, and would increase the legitimacy and breadth of support for the use of unilateral coercive measures short of war (such as sanctions) by member states such as the UK.
Deescalation, diplomacy and a people-centred peace process is urgently required. No country should be allowed to redraw the map of the world at gunpoint. The moment demands a robust response from the international community to defend the international rules based order. 
This situation, like many before it, has been facilitated by an ideological acceptance that militarism can be used to pursue foreign policy goals and as a means to expand countries' spheres of influence. The symptoms of this toxic approach - armed violence - will continue until diplomacy, disarmament and de-militarisation are widely embraced within the international community in the service of peace.
Read more
Photo: A wide view of the emergency Security Council meeting on Ukraine.  Credit: UN Photo/Mark Garten