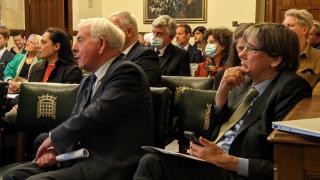 On 29 March 2022, the UN APPG held a special parliamentary briefing in partnership with the UK National Commission for UNESCO on the protection of Ukraine's cultural heritage following the Russian invasion of Ukraine.
Chair of the UN APPG Lord Hannay introduced the meeting, remarking how "the damage war does to the heritage of a country is real, and often irreversible".  Dr Olenka Z. Pevny, a lecturer in Ukrainian Studies at the University of Cambridge, then gave an update on the current status of Ukraine's museums, monuments and artefacts while noting that it was an incredibly fluid situation on the ground. According to Dr Pevny, "Only one museum in Kyiv has had the time to pack and move artefacts[...]this heritage has not been studied, recorded, it has not been adequately photographed." She continued by recognising the courageous efforts that Ukrainians are undertaking to protect their heritage: "Today many are living in museums to try and protect artefacts - but they cannot protect them from missiles".
Ernesto Ottone, Assistant Director-General for Culture at UNESCO, explained that UNESCO is documenting on a daily basis the impacts of the invasion on monuments, buildings and cultural heritage. As of 24 March he noted that 42 sites had been verified as having suffered damage: 21 religious buildings, 4 museums, 15 historical buildings and 3 monuments.  However, this is a highly conservative record of verified sites - the real figure is likely to run into the hundreds. Mr Ottone also highlighted that the growing refugee crisis is putting conservation practices in jeopardy and immediate support is required for the provision of essential materials for emergency protection, safe packing and storage as well as satellite monitoring support.  Lastly, he called for support in the protection of Ukraine's living heritage - including the artists who are under direct threat in Ukraine and those who have fled to neighbouring countries.
The meeting continued with a detailed presentation from Peter Stone who is  UNESCO Chair in the Protection of Cultural Property but spoke in a personal capacity.  Making the case that the international community should care about protecting cultural heritage, Mr Stone explained that this heritage is the "tangible and intangible link that gives communities a place and sense of belonging".  He noted the grave implications of destroying a people's culture, pointing out that early drafts of the Genocide convention included sections on "cultural genocide".   Mr Stone outlined how civilian wellbeing is intertwined with cultural heritage and is needed for "healthy, peaceful, safe, stable and sustainable communities".  He continued by identifying elements that were particularly at risk in the current context:
Historic archives and records that could be used to refute the rewriting of history

Censuses that returning diaspora might use to prove their identity and rights, ownership of their homes

Theft/ looting of museums and archives 
Mr Stone also explained that a list of 30 sites including world heritage sites has been produced by UNESCO with a view to establishing enhanced protection - this initiative is waiting to be confirmed by Ukraine.  Mr Stone finished by pointing out that other potentially at risk countries - Baltic states, Romania, Georgia and others also need help before it is too late, given the threat they too are under.
Responding on behalf of the Government, Lord Parkinson, Minister for Arts at the Department of Culture Media and Sport,  affirmed the critical importance of Ukraine's cultural heritage.  He noted that Russia's "deplorable" invasion has already resulted in direct contravention of the 1954 Hague Convention for the Protection of Cultural Property in the Event of Armed Conflict.  The Minister welcomed the UNESCO Executive Board's decision to condemn Russia and noted that the UK has announced an emergency response fund to protect cultural heritage under threat and is also committed to continue sharing expertise wherever possible. 
The event was chaired by Dr Charlotte Joy, Non-Executive Director for Culture, UK National Commission for UNESCO and was well-attended by parliamentarians, civil society and academia.
Read more:
Photo: Attendees at the APPG parliamentary briefing. Credit: James Bridge/UNESCO UK.