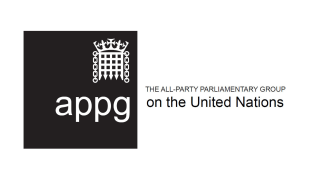 On 13 October 2022, the UN APPG held a briefing with the APPG for Global Security & Non-Proliferation about safeguarding civil nuclear facilities during conflict - in light of the ongoing concerns surrounding Europe's largest nuclear facility, Ukraine's Zaporizhzhya Nuclear Power Plant (ZNPP).
In his introduction, Lord Hannay, Chair of the UN APPG, highlighted that the precarious situation with Ukrainian nuclear plants should be a wake-up call in light of the growing number of nuclear facilities globally.
Sarah Price, Head of the Counter Proliferation and Arms Control Centre at the UK Foreign Commonwealth and Development Office, remarked that while it's positive more nuclear facilities are being built, it also means more civil nuclear facilities potentially positioned in places of conflict. 
She underlined the difficulties of safeguarding in a conflict, raising the question of accountability in a disputed territory such as the Russian-occupied ZNPP in Ukraine, which is currently powered down but still of strategic importance to Ukraine. Specifically, the power plant is at risk from shelling in its surrounding areas and repeated damage to its power supply.
Following up, Alberto Muti, Programme Co-Director for the Verification and Monitoring Team at VERTIC, shared further insight on how unprecedented the situation is in Ukraine: "we have never had an armed conflict around a nuclear facility of this scale. Occupation has prevented the staff at ZNPP from accessing emergency preparedness response materials at times, as well as blocking communications from international security."
Ms Price highlighted the critical role played by the UN's International Atomic Energy Agency (IAEA), which works to ensure the safe use of nuclear technology. They provide bilateral advice and support on nuclear safety, including in Ukraine, where they are monitoring the situation closely against their seven pillars of nuclear safety and security.
The IAEA has repeatedly called for a demilitarised zone around ZNPP but, according to Ms Price, questions remain on how it would be set up, monitored and enforced. Ms Price concluded that the IAEA has "fantastic principles, but we don't have any mechanism to apply them to this and future conflicts." 
Setting out the work the IAEA does to prevent nuclear meltdown, prevent theft, and uphold safeguarding so nuclear material is not directed to develop weapons, Dr. Muti noted: "The IAEA has a key role as a trusted and impartial institution, and has helped staff at nuclear facilities develop safety and security preparedness measures."
In closing he highlighted how decisions made now will have lasting impacts, in particular that the IAEA mission in Ukraine could lay the groundwork for vital mitigation instruments in the future, and in the face of future conflicts' impacts on nuclear facilities.
Read more:
Photo: UN APPG logo.