You are here: Peacekeeping: A Briton's legacy
5 March 2019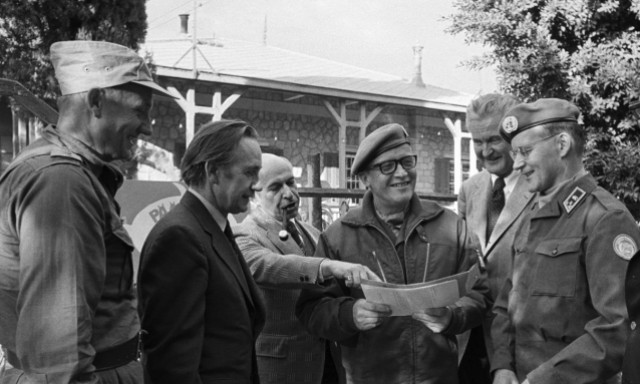 The UK should continue to provide support for UN Peacekeeping operations in the form of troop contributions after the current set of deployments end in the summer of 2020.
The UK provides considerable financial and political support to UN Peacekeeping. However, UNA-UK has consistently argued that the impact of this support can only be maximised if the UK shows that it has "skin in the game" by also contributing a noticeable number of Peacekeepers. A failure to do so will contribute to the damaging divide within peacekeeping between the permanent members of the Security Council, such as the UK, who give UN Peacekeepers their orders, and the nations, largely from the global south who provide the majority of troops.
UK contributions to UN Peacekeeping also provide a large number of other positive contributions to the UK, including training opportunities and career enrichment for the British Armed forces, experience of working in coalition with diplomatic partners, political influence, and "upstream" conflict prevention.
The UK currently contributes around 700 UN Peacekeepers: a battalion to the UN Mission in Cyprus (UNFICYP), an engineering battalion to the UN Mission in South Sudan (UNMISS), and around 100 senior staff officers, police officers and other experts deployed to the UN's other missions - a considerable proportion of them working for the UN Support office in Somalia (UNSOS), a UN political mission.  These deployments are due to end in the summer of 2020 and no announcement has yet been made on UK contributions beyond that point. There is a meeting of Defence Ministers to discuss future pledges in New York on 29 March.
This blog by Fred Carver, Head of Policy, was originally published on Medium on the 28 February 2019 for Sir Brian Urquart's 100th birthday. It further advances the argument.
One of the greatest Britons of the 20th century turns 100 today. Maj (ret) Sir Brian Urquhart was the second person ever hired into the United Nations Secretariat. Nearly 75 years later they have scarcely made a better call.
Sir Brian's fingerprints can be found on almost every aspect of the United Nations, but in particular over the concept and institution of UN peacekeeping. He always considered himself an international civil servant and did perhaps more than anyone to bring that notion into being, and so it would be wrong to use his involvement to claim peacekeeping as a British invention. Nevertheless, over the years the UK's contribution to the concept of UN peacekeeping has been considerable.
Sir Brian was replaced in his final role as head of Special Political Affairs by another Brit, Sir Marrack Goulding, who oversaw a change of name to the Department for Peacekeeping Operations. Throughout much of the 1990s the UK was the largest single contributor of blue helmeted troops and, while the numbers contributed today might be smaller, the role they play — from the engineering battalion in South Sudan, to the far flung but crucial staff officers and experts in senior positions across the UN system, to the 300 much maligned "beachkeepers" in Cyprus — is absolutely vital.
Will this role continue or even increase after Brexit? It is unclear. The UK's current commitments to UN peacekeeping are set to come to an end in mid-2020 and, while politicians from across the political spectrum have spoken warm words about their support for the concept, firm pledges have been harder to come by.
But if the UK chooses to walk away from peacekeeping, it would be making an error. Here are some simple facts: analysis has shown that the deployment of a UN peacekeeping mission achieves a reduction in the number of civilian casualties, a lower number of battlefield deaths and geographic constriction of a given conflict. Despite being the most numerous type of troop in conflict zones the world over, UN peacekeeping uses only 0.5% of the world's defence budget. The deployment of a UN peacekeeping mission is both far cheaper and far more likely to prevent conflict than the deployment of any other kind of military force. As a form of armed intervention, peacekeeping has an unmatched moral legitimacy; it represents a mechanism for sharing the financial burden and political risk of doing something in situations where "the cost of doing nothing" is too high to contemplate. Today there is no civil war in Liberia, Sierra Leone, East Timor or the Balkans. While it is difficult to prove a counterfactual, it seems likely that blue helmets prevented a genocidein the Central African Republic, and prevent acts of violence and abuse on a daily basis.
And the UK military will likely be weighing up some colder facts too: UN peacekeeping provides pretty much the only mechanism for British troops to gain active duty experience without starting a war. As such it provides unmatched training and career enrichment, particularly with respect to key skills (such as working in coalition and working in complicated political environments), that the armed forces are particularly keen to develop. Peacekeeping also demonstrates the UK's value to the UN Security Council and General Assembly and thus increases the UK's clout in those forums. This in turn counters the influence of other significant global powers.
There are of course other, less comfortable, facts to consider. UN peacekeeping's failures have been very public. All of the UN's major peacekeeping missions face significant challenges. Atrocities have taken place under the noses of blue helmeted troops and a desire to ensure that this does not happen again has led to a push to make peacekeeping ever more "robust". This risks blurring the line into counter-insurgency, to the detriment of peacekeeping's value as a descalatory mechanism. Last year the UN Secretary-General commissioned Bolsonaro acolyte Santos Cruz to recommend yet more robust action in high-risk environments as a means to reduce unacceptably high levels of UN casualties. Expert opinion is decidedly split on the results.
Meanwhile budgets continue to be squeezed until the mission chokes and the arrogance of permanent members of the UN Security Council leads to the creation of unimplementable "Christmas Tree mandates". Peacekeeping is not immune to the power dynamics of our unequal, postcolonial, world with its sharp delineation between those who lead and those who bleed. And sometimes peacekeepers have committed the ultimate act of betrayal and have been the perpetrators of the very violations they exist to stop.
None of this should surprise us. That peacekeeping exists at all is a miracle and a testament to the creative genius of the likes of Sir Brian Urquhart in navigating the multiple competing interests and constituencies involved, very few of whom have the best interests of the war affected community at heart. Frequently peacekeeping has only been able to continue at all because its exact form is so ill defined, and so its would-be adversaries are able to make their peace with it. But that vagueness can have tragic consequences at key moments, or just lead to long-term low-level dysfunction.
Nevertheless, in the eyes of those who should matter the most, those living in war torn areas, peacekeeping does more good than bad. "No one on the earth cares if we survive except God and sometimes UNAMID", in the words of one Darfuri. Cuts to the UN mission in the Democratic Republic of Congo were met with demonstrations. Peacekeeping represents a way to stand up to bullies, to mediate disputes, to reduces tensions, and to saves lives. This is Sir Brian Urquhart's legacy. I hope it will remain part of the United Kingdom's future.
Photo: Brian Urquhart, second from left, visits UN peacekeepers in Suez in 1974. It was here where, 8 years earlier when establishing the mission, he had first thought to paint the peacekeepers' helmets blue to distinguish them from combatants. Credit: UN Photo/Yutaka Nagata