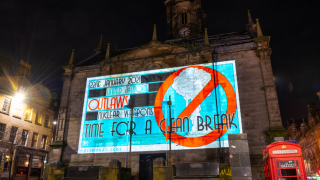 A wide coalition of civil society, health and humanitarian organisations joined forces to write to the Prime Minister to respond to the announcement of a dramatic expansion in the UK's nuclear posture outlined in the UK's Integrated Review, published on 16 March 2021.
The letter states that the "announcement is incompatible with the principles and commitments to non-proliferation, disarmament and transparency to which Britain has committed under the Nuclear Non-Proliferation Treaty (NPT)" and cites the UN Secretary-General's analysis that the UK's plans are "contrary to its obligations under Article VI of the Nuclear Non-proliferation Treaty" and could have a "damaging impact on global stability and efforts to pursue a world free of nuclear weapons".
As we approach the NPT's 5 yearly Review Conference, the UK's nuclear expansion deals a severe blow to global efforts to secure consensus on a shared action plan for global nuclear proliferation and disarmament. The Integrated Review fails to take into account today's security priorities and new multilateral opportunities to accelerate global progress on disarmament, such as the new UN Treaty on the Prohibition of Nuclear Weapons (TPNW), which is supported by over 130 NPT states.
At a time when Britain and nations across the world continue to tackle the global public health crisis, collapsing economic systems and climate change, we urge the UK to rethink it's security and budgetary priorities, uphold international law including the NPT, and reject pressures to increase the nuclear arsenal or widen nuclear use policies.
The letter was convened by ICAN Partners in the UK (of which UNA-UK is a co-coordinator). We will publish a response to the letter when it is received.
Click here for the full text of the letter
Click here for UNA-UK's wider reaction to the Integrated Review
Image: Projection on The Tron Kirk in Edinburgh organised by ICAN UK Partners, celebrating the entry into force of the TPNW