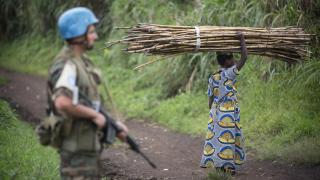 Secretary-General António Guterres has today presented the report prepared by his high-level task force on preventing sexual exploitation and abuse by UN peacekeepers.
The report will call for a joined-up approach to combatting sexual exploitation and abuse, looking to ensure the United Nations and the countries that contribute peacekeepers work together to address the problem.
This approach is welcome, and represents a positive start to the Secretary-General's pledge to address the issue. We look forward to supporting the Secretary-General in building on this report and taking the tough actions that will be needed to combat abuse.
The Secretary-General's report coincides with the launch of UNA-UK's new campaign, Mission:Justice, to turn the responsibility to prosecute peacekeepers who commit abuse into a reality, by urging the UN and member states to take the necessary action to strengthen the international system's ability to deliver justice.
UNA-UK believes that the responsibility to prosecute sexual abuse should be established as an international standard. If acts of sexual abuse that are universally regarded as criminal are committed by UN peacekeepers, then there is a responsibility to bring the perpetrators to justice.
This is a shared responsibility. It falls to the states who deploy peacekeepers to prosecute. If these states are not able to live up to their responsibility then the international community, and the UN, must help them to do so. If this is unsuccessful then the international community must step into the gap.
We will be calling for processes which will remove the obstacles that currently prevent prosecution. We will be pushing for Security Council resolutions to monitor sexual abuse and bar perpetrators from serving on UN missions – building on the successful approach used to combat the recruitment of child soldiers. And we will be looking to the Secretary-General to investigate new mechanisms to ensure that, no matter who commits the crime, there is always a mechanism to hold them to account.
More information on our campaign is available here.
Over the coming weeks and months UNA-UK will work through our existing networks and build new partnerships across the world, to better understand the needs and wishes of all those affected and involved, to help them remove the obstacles to prosecution, and to demand that justice is done.