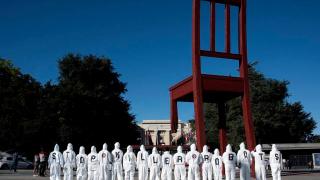 States met in Geneva last week to discuss how best to address the risks posed by lethal autonomous weapons systems, or, "killer robots", at the annual meeting of the Convention on Certain Conventional Weapons (CCW). The outcome was disappointing - states agreed to dedicate less time to the issue in 2019 and did not adopt a clear agenda.
Since the first CCW meeting on killer robots in 2014, most participating states have identified a need to strengthen current international humanitarian and human rights law to prevent the development, production, and use of lethal autonomous weapons, including an increasing number of states calling specifically for a pre-emptive ban. A growing civil society movement, major tech companies and the UN Secretary-General also support a pre-emptive ban.
At last week's meeting, a frustrating but familiar pattern emerged where a small minority of states were able to impede the ambitions of the majority due to the forum's consensus-bound rules of procedure. Despite an overwhelming majority of the 88 state participants calling for ten days of 2019 discussions on killer robots, Russia alone was able to reduce the time to just seven – an allocation dubbed by the Campaign to Stop Killer Robots: "less than the bare minimum".
But wrangling over allocations is indicative of a more fundamental issue for those seeking action through the CCW. A few influential countries appear determined to obstruct any moves to begin negotiations on a binding treaty to prohibit killer robots. They include Australia, Israel, Russia, South Korea and the US. While the UK has usefully helped shape policy discussions, it has also frustrated progress towards a prohibition by arguing against suggestions to elevate discussions to treaty negotiations.
UNA-UK's Head of Campaigns, Ben Donaldson, commented:
This is deeply troubling. Concern at the prospect of killer robots is rising rapidly within business, civil society and among states, yet the direction of talks suggests the opposite. The window to pre-emptively ban these weapons is closing fast but a small minority of states are blocking the way.  The large number of states looking for urgent action need to consider all possible avenues and drive the ban process forward with urgency. Humanity will thank them for it"
If progress is blocked at the CCW, what next?
It seems increasingly likely that concerned states will now consider other routes to create a new international treaty to ban fully autonomous weapons. Previous impasses within the CCW on banning antipersonnel landmines and cluster munitions led to successful external diplomatic avenues being pursued resulting in lifesaving treaties to prohibit these weapons. In both instances, the external process was the result of a partnership between determined states, UN agencies and civil society.
Campaign to Stop Killer Robot's Coordinator, Mary Wareham, commented:
This weak outcome underscores the urgent need for bold political leadership and for consideration of another route to create a new treaty to ban these weapons systems, which would select and attack targets without meaningful human control"
As a member of the Campaign to Stop Killer Robots, UNA-UK stands ready to pursue any effective route which will address the threats posed by the emergence of lethal autonomous weapons and will continue to campaign for the UK to support this aim. We believe that the UK needs to work cooperatively with the international community to address the risks we face, including those presented by killer robots.
Photo: Campaign to Stop Killer Robots outside the UN in Geneva. Credit: Campaign to Stop Killer Robots.