You are here: Chair's blog: "Calling time on one of the UN's most difficult missions"
20 April 2017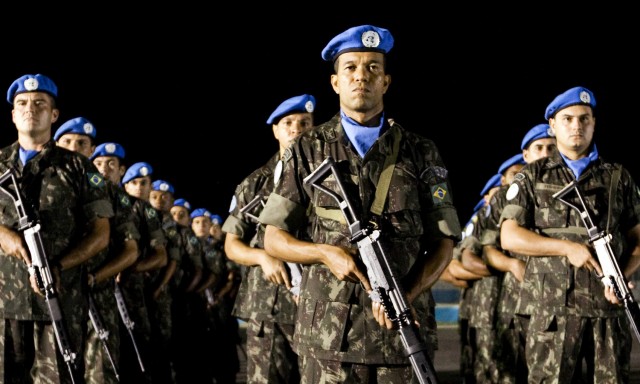 Lord Wood of Anfield, Chair, United Nations Association - UK 
Over the next six months, the UN will wind up its peacekeeping mission to Haiti – the United Nations Stabilization Mission in Haiti (MINUSTAH) – withdrawing nearly 5,000 uniformed personnel, the majority of them police. A new, lighter, mission consisting exclusively of 1,275 police officers will take its place. That mission will be known as the UN Mission for Justice Support in Haiti (MINUJUSTH).
The UN has had a continuous military presence in Haiti for nearly 25 years. The current mission has been in place since 2004 and is one of the UN's most controversial.
Initially tasked with restoring stability and security following the coup d'état against former President Aristide, the horrendous earthquake of 2010 (which is estimated to have killed some 220,000 people, including 96 UN peacekeepers) saw a shift in focus to reconstruction and infrastructural support efforts.
But this work has been marred by repeat allegations of sexual exploitation and abuse, leading in 2007 to the largest single repatriation in UN history, when 119 Sri Lankan troops were sent home for participating in a child prostitution ring. Meanwhile an outbreak of cholera – a disease which had not been present in Haiti for over 100 years, and which killed nearly 5,000 people in 2010 – was traced back to a failure by a Nepali contingent to sanitise waste water.
These incidents led to a significant breakdown in trust between the mission and the local community. They also provoked debate as to whether an armed peacekeeping force was the best way to support a country in need of political stability, development aid and security sector reform – a country that has not experienced armed conflict for over a decade and which has seen democratic transfers of power (albeit marred by violence, corruption and delays) since. Many wondered why the mission did not wind up at those junctures – would it continue indefinitely, regardless of the situation on the ground?
It is therefore right that MINUSTAH will end. Compensation must be paid, ongoing support must be assured, and lessons must be learned for future missions when it comes to people-centred peacekeeping and – crucially – preventing sexual abuse. Our Mission:Justice campaign seeks to tackle that very issue. It is also sensible that the UN's involvement in Haiti will not cease. The replacement mission seems a much more suitable means to strengthen Haiti's rule of law and support its governance.
But we must be careful not to draw the wrong lessons from MINUSTAH's unhappy record. As UN peacekeepers in some of the world's most challenging situations prove every day: when given the right mandate, the right troops, the right approach and the right capacity the 'blue helmets' are unmatched in their ability to protect civilians and prevent a return to war. While peacekeeping failures inevitably receive greater attention than ongoing successes, studies have shown that UN missions are generally more effective and substantially cheaper than comparable interventions. The Rand Corporation, a US think tank, analysed eight UN peacekeeping missions and found that:
As the UN calls time on one of its hardest and most controversial missions, we should scrutinise the circumstances under which peacekeepers are deployed and ask what factors – successes and failures – should trigger their withdrawal. UN peacekeeping is not a silver bullet. Time and again we have seen that missions are most effective in countries like Liberia and Sierra Leone where an external military presence can alter the balance of power in favour of the forces of stability, and is most effective when big powers show sustained interest and support. But there can be no doubt that UN peacekeeping will continue to play an important a role, providing support where others cannot and will not. In the right circumstances it is an unmatched tool for building sustainable peace.
Photo: Members of the Brazilian contingent of the United Nations Stabilization Mission in Haiti (MINUSTAH). Copyright UN Photo/Marco Dormino
More on Chair's blog, Peacekeeping