You are here: APPG meeting with Alex Bellamy and Gareth Evans launches R2P briefing
16 May 2013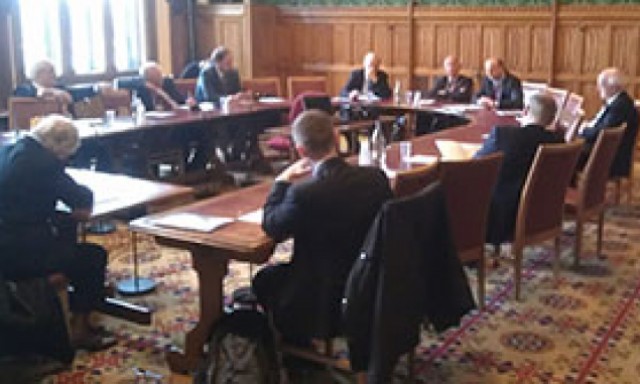 On 15 May, the All Party Parliamentary Groups on the United Nations, Global Security and Non-Proliferation, and on Genocide Prevention, were addressed by the Hon. Gareth Evans and Professor Alex J. Bellamy – two leading experts on the Responsibility to Protect (R2P). In a panel discussion chaired by Lord Hannay, both speakers highlighted the progress made on establishing and consolidating the principle of R2P, and the challenges of implementing the policy framework it prescribes for preventing and responding to mass atrocity crimes.
Professor Bellamy emphasised the need to develop a solid institutional basis for implementing R2P and highlighted the importance of coordinating intelligence sharing and early warning mechanisms. He argued that these measures would allow for R2P to be employed as a long-term preventative tool, thus shifting the emphasis away from responsive measures like military intervention.
Mr Evans focused on the implementation of R2P in "hard cases". He argued that the lack of decisive action on Syria has been a direct result of the international intervention in Libya, which has challenged the fragile consensus on the implementation of R2P. Mr Evans asserted that rebuilding that consensus must be a priority. He therefore stated his support for the tenets of "Responsibility While Protecting" - an amended version of R2P that, among other things, will ensure that future international actions have a clearly defined mandate.
Both Professor Bellamy and Mr Evans insisted that the difficulty of the Syrian case must not be allowed to obscure the great strides made in establishing the R2P principle. However, both speakers called for pragmatism with regard to what R2P can be realistically expected to achieve.
The presentations were followed by a lively question and answer session in which UNA-UK Chairman Sir Jeremy Greenstock took the opportunity to give a firm statement of UNA-UK's determination to "keep pushing" on R2P, as part of the global effort to increase the force and effect of the norm.  Other participants in the discussion included Dame Margaret Anstee DCMG and the Rt. Hon. Douglas Hurd.
Launch of UNA-UK's first report on R2P 
The meeting served as the launch for UNA-UK's first policy briefing on R2P, written by Professor Alex Bellamy. The report, which Mr Evans described as "an admirable and compelling account" of the emergence of R2P, clarifies the principle's meaning and scope and considers the steps required to implement the norm at the UN Headquarters, within national governments and as part of the international response to emerging crises across the world.
Above all, the paper seeks to serve as a resource and guide for policy-makers, parliamentarians, scholars and practitioners, suggesting ways for governments, elected officials and civil society groups to contribute to the goal of making the protection of populations from unconscionable acts of inhumanity a living reality. A copy of the report is available below.
For more information on UNA-UK's R2P Programme, please contact Alex Buskie on buskie@una.org.uk or 020 7766 3445.
More on R2P, Parliamentarians