You are here: UNA Youth: Freshers' fairs and youth campaign pack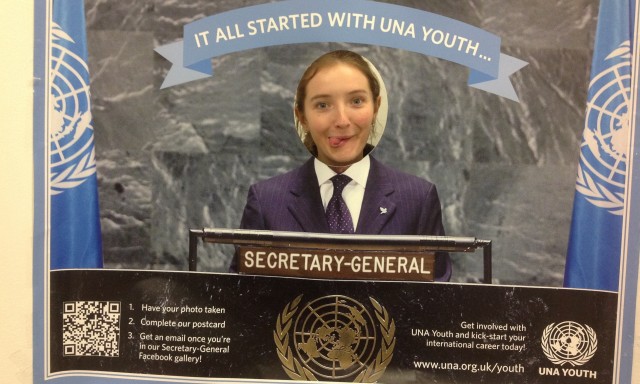 University freshers' fairs present new students with a host of clubs and societies to get involved with. From human rights to the environment, tennis to tiddlywinks, no matter what your interest, chances are a group dedicated to it exists – Cardiff University's intriguing "Custard Wrestling Society" is a good case in point. Ensuring that UNA Youth stands out amongst this dizzying array is a perennial challenge facing our university branches.
This year, UNA-UK created a campaign to help youth branches attract a record number of supporters: asking passersby to picture themselves, quite literally, as the next UN Secretary-General by posing in a cut-out poster. Once engaged, students were asked to begin their relationship with UNA-UK and their UNA Youth branch by completing a supporter postcard.
Future Secretaries-General of all stripes have posted their pictures on Twitter, Facebook and other sites, spreading the message that involvement in UNA Youth is a must for anyone interested in the United Nations (and lots of fun too).
Through this quirky stunt, UNA-UK sought to address, in a simple and engaging way, the pressing questions that potential UNA Youth members ask themselves during freshers' week:
How can I make the most of my time at university?
Will I be able to engage with the big issues facing the world?
How can I contribute to tackling these challenges?
Which society will give my CV a real boost?
What's the best way to meet others with a passion for global affairs?
Supporting students in developing their interests and careers is a top priority for UNA-UK. This is the largest generation of young people the world has ever known: half the global population is under 25 and this proportion is rising. Right now, the world is facing multiple challenges that need effective partnerships across borders, across sectors and across generations. We need the commitment of students and young people everywhere if we are to forge a sustainable future.
We hope that our freshers' fair campaign is the starting point for this engagement and we look forward to building on its success with a year of strong UNA Youth activity.
New UNA Youth campaign pack UNA-UK, in partnership with three UN agencies, has produced a campaign pack for UNA Youth. To find out more and access the pack, visit www.una.org.uk/youth