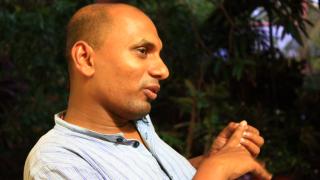 At 2.31pm on 21 August 2012, a 32-year-old woman sent a text message to her relatives saying she had been taken to the Criminal Investigation Department in Vavuniya in the north of Sri Lanka. No one has heard from her since.
Businessman Ramasamy Prabakaran filed a claim against the authorities after he was detained, tortured and subsequently found innocent in court. Two days before the hearing this February, he was abducted by armed men in Colombo, the capital.
Lalith Weeraraj and Kugan Muruganantham, activists who supported families of Sri Lanka's disappeared, became victims themselves on 9 December 2011, on the eve of the commemoration of Human Rights Day. Over 1,000 people protested against their abduction.Prageeth Ekneligoda, a journalist and cartoonist critical of the present government, has not been seen since 24 January 2010. He disappeared two days before the Sri Lankan presidential election.
Dozens of people, including Catholic priest Francis Joseph, witnessed Sinnathurai Sasitharan, a prominent leader of the Liberation Tigers of Tamil Eelam, surrender to the army during the final stages of the civil war in 2009. All of them are now missing. For decades, Sri Lankans of all stripes have suffered enforced disappearances. In the 1970s and 1980s, tens of thousands of young people from the majority Sinhalese community were disappeared. Since then, most victims have been minorities, with Tamils constituting the main target.
During the last months of the war and its immediate aftermath, thousands of Tamils are thought to have disappeared, some, according to eyewitnesses, after surrendering to, or being arrested by, the armed forces. The Lessons Learnt and Reconciliation Commission (LLRC), which was set up by the Sri Lankan government in 2010, received information about 3,596 disappearance complaints. It concluded that a further, specialised investigation into disappearances was needed. The end of the war has not brought an end to these abuses. Based on reported cases (including attempted abductions), someone is disappeared every five days in Sri Lanka. Over 50 people have been taken from their loved ones in the first six months of this year.
The rationale behind these attacks – both during the conflict and now – appears to be silencing dissent, whether this dissent comes from armed groups, journalists, aid workers, human rights defenders, members of the clergy or anyone else. The UN Working Group on Enforced and Involuntary Disappearances has submitted 12,460 cases to Sri Lanka, of which 5,671 remain outstanding. Only Iraq has a worse record.
Together with friends and colleagues, I have accompanied those left behind – mostly wives and mothers – in the search for their loved ones and for the truth, documenting their stories, and supporting their complaints to local bodies. We witnessed the callous treatment they received from the police and Human Rights Commission of Sri Lanka, and the general unwillingness to search for the disappeared or to hold perpetrators accountable. "You wouldn't talk like that if it was your daughter," one mother said to the LLRC last November.
In November 2011, the head of the Sri Lankan delegation to the UN Committee Against Torture declared confidently that the disappeared journalist Prageeth Ekneligoda was living overseas. Upon returning to Sri Lanka, he admitted in court that he was not actually aware of Ekneligoda's whereabouts. Earlier this year, when specific information about the location of two disappeared activists was provided to the national Human Rights Commission, it refused to undertake an immediate investigation, despite a clear mandate to do so.
Even worse, some of the families of those missing have been intimidated and ridiculed. So too have many people who have supported them in their quest for truth and justice, including human rights defenders, journalists, politicians, religious leaders and lawyers. Many have been labelled "traitors" or "terrorist sympathisers". Commemorations and campaigns for those who have disappeared have been banned, disrupted and restricted. Organisers and participants have been threatened and harassed.
The failure of domestic mechanisms to act has compelled many families to seek international assistance for their loved ones. While the support and concern from human rights groups has been welcomed, many are frustrated that the international community has not been able to provide tangible help. There is also disappointment at the unwillingness to put real pressure on those involved. For me, the main glimmer of hope was the courage of the families of the disappeared, who refuse to accept defeat. However powerless I felt, I am honoured to have been part of their struggle.
It is now three and a half years since the end of Sri Lanka's long-running civil war. But until the families of the disappeared receive the support and compassion they deserve from the government and society at large, until their quest for truth, justice and accountability is over, until democracy and the rule of law are restored, a sustainable peace will remain elusive.
In line with the provisions of the International Convention for the Protection of All Persons from Enforced Disappearance, families should receive financial and legal support; access to counselling; prompt assistance with the issuing of relevant documentation, including death certificates; and full cooperation by national authorities to investigate cases. They should be free to hold memorials and to protest peacefully if adequate action is not taken. Reform of legal and other institutions, notably the Human Rights Commission, is also needed.
At the international level, pressure should be put on the Sri Lankan government to ratify the Convention and to allow the UN Working Group on Enforced and Involuntary Disappearances to visit the country. The Group has had an invitation pending for six years. This could help shed light on the fate of the disappeared and would also serve as a sign of political commitment by the government to address and prevent enforced disappearance. The engagement of countries in Central and South America that have experienced and found ways of dealing with mass disappearances is also crucial.
But what is needed above all is for all Sri Lankans to wholeheartedly join the families of the disappeared in their search for truth, justice and accountability.
Ruki Fernando is a Sri Lankan human rights activist who has worked closely with families of the country's disappeared on documentation, local campaigns and international advocacy.