You are here: Learning the hard way: the fight for female education in the developing world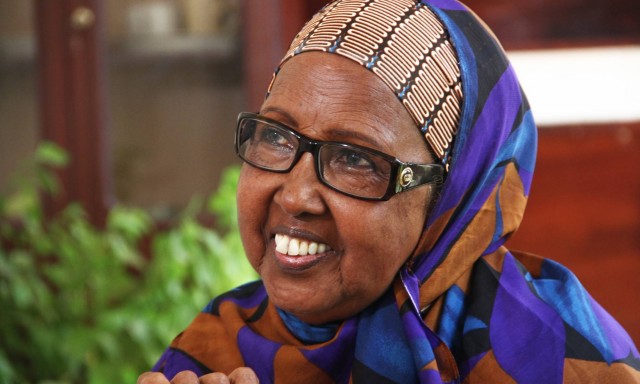 "I think not having education is a kind of disease. Without education you do not exist much – physically yes, but mentally and emotionally, you do not exist." These are the words of 'Mama' Hawa Aden Mohamed, who on 1st October was awarded this year's Nansen Refugee Prize. They could not have been more prescient. Just over a week later, 14 year-old Malala Yousafzai was shot for campaigning for the right to education for girls in Pakistan.
Hawa Aden Mohamed understands the difference that education can make to a girl's life. Born in Baidoa, a small town in south-west Somalia, Mohamed's father made a decision that was unusual in Somalia in the late 1950s: he sent her to school. And Hawa Mohamed has used her education as a force to change the lives of countless other women in Somalia. In 1999 she founded the Galkayo Education Centre for Peace and Development in north-eastern Puntland, which provides secondary education and vocational training to displaced women and girls. The centre - which has helped more than 215,000 people since its creation - is a refuge where victims of abuse and violence can find shelter, safety and the opportunity to rebuild their lives.
More than two decades of conflict have forcibly displaced upwards of two million Somalis, either inside the country or beyond its borders, and last year's famine uprooted an additional half million people. Forced displacement can have a particularly profound impact on girls. They not only lose their normal environment, but are often required to assume more adult responsibilities, including domestic chores and caring for younger children. Too often education is seen as a luxury, or is unavailable for children separated from their communities. In Somalia, where women head up more than half of all households, Mama Hawa's aim is to empower displaced women and girls to earn their own living and to prepare to play a more active role in Somali society.
Sixteen year-old Muna turned to Mama Hawa for help after becoming separated from her family when she fled fighting in Mogadishu. She had tried to make ends meet selling rainwater on the street, but soon found that young women on their own are at risk of sexual exploitation. "When I started learning at [the centre], my mind opened, I started to understand life," says Muna. She now has an income making clothes with a sewing machine provided by the centre, which also provides counselling for circumcised women and girls. Every year, around 180 women benefit from these programmes, and many lives are saved.
It was for this outstanding work that Mama Hawa received the Nansen Refugee Award, established in 1954 by the UN High Commissioner for Refugees (UNHCR) to recognise exceptional work on behalf of refugees by an individual or organisation. Mama Hawa will use the $100,000 prize money donated by the governments of Switzerland and Norway to reach out to even more Somali women.
"If women are not given the slightest education, there is no light," says Mama Hawa, who became a refugee herself in the early 1990s, fleeing first to Kenya, then Canada. "How can you be empowered if you are not educated? Yes, you have a mind, you can talk, you can see what is wrong, what is right, but not really at the level where you can demand your rights."
For many girls in the developing world, the right to education is still a battleground. But thanks to the courage and visionary work of people like Malala Yousafzai and Mama Hawa, the next generation does not have far to look for inspiration.
Laura Padoan is External Affairs Associate for the United Nations High Commission for Refugees in London.