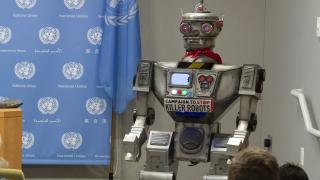 Lethal Autonomous Weapons System (LAWS), which NGOs and some states have referred to as "Killer Robots", are the potential product of the technological development that is gaining momentum with research and innovation in the field of artificial intelligence. These are robotic weapons systems that, once activated, can select and attack targets without the additional intervention of a human operator.
Countries that have vested interests are seeking artificial intelligence for military purposes; but this only protects their soldiers and exposes civilians. If the trend in technological development continues, humans could disappear from the decision-making circuit of certain military actions, possibly retaining only limited power of surveillance, or reduced to simply selecting general mission settings. Several autonomous weapon systems with reduced levels of human control are currently being used or being developed by advanced-technology armies, including the United States, China, Israel, South Korea, Russia and the United Kingdom.
The ongoing global culture of war threatens humanity in its pursuit of economic, political, strategic, military, and other ways, with its disrespect for the value of human life.
Consequently, we see the ongoing development of newer and innovative types of weapons, including fully autonomous weapons.
The Women's International League for Peace and Freedom (WILPF) envisions a world without violence and armed conflict where human rights are protected, through processes that involve women at all levels.
WILPF's mission in Cameroon and Africa is to contribute to the stability of social peace by building a women's peace movement to prevent war and to ensure that women are represented at all levels of peacebuilding processes. Working for peace justifies WILPF's involvement in the fight against the development and proliferation of weapons of all kinds. 
For many in Africa, the issue of Killer Robots seems insignificant. From the regional campaign's perspective, the view is that the Killer Robots issue does not fit neatly into working agendas in the same way as Small Arms and Light Weapons (SALW). Often advocacy efforts emphasize issues that are considered to be more urgent such as the implementation of UNSC Resolution 1325 on women peace and security, the SDGs, improvement of human rights, and more topical crises of governance. 
But this argument risks creating an environment where we no longer consider human worth. Thus, we lead advocacy at the national and regional levels for the prohibition of the development and use of new types of weapons such as LAWS. It is clear that the challenges posed by Killer Robots are already in need of a response and pose a serious threat to human rights, hence the need to take urgent preventive action. For Cameroon, as for other African countries, prevention is the focus of the campaign message; as far as we know currently no African state is developing them, but our continent is exposed to the most significant consequences if they are used. Therefore WILPF is committed to the Campaign to Stop Killer Robots.
Africa is often a field of experimentation for new technologies in order to satisfy the interests of Western countries. The potential risks of developing and using killer robots are enormous, at a time when states have failed in their quest to address the root causes of conflict. Cameroon and other sub-Saharan countries like Nigeria, Chad and Niger are facing the threat posed by terrorism, a situation that has prompted countries like France and the United States to develop remotely controllable weapons. But we should be alarmed by the potential for these weapons to be replaced by fully autonomous weapons systems.
LAWS not only represent a huge danger for humanity, but also for "weak" countries that do not have such developed technologies and resources to resist this type of weaponry.
Furthermore, the continent has for some years been the scene of endless wars that leave many victims and ravage entire communities. In the current security context, crises often lead to an increase in violent extremism. For countries with smaller economies, where conflicts are seemingly permanent, dictatorships' and authoritarians' thirst for power may drive them towards obtaining killer robots.
How do we stop Killer Robots? The United Nations Convention on Certain Conventional Weapons (CCW) limits the use of specific weapons according to two general customary rules of International Humanitarian Law - namely the prohibition of the use of indiscriminate weapons, and the prohibition of the use of weapons likely to cause unnecessary suffering. 
But it is necessary that more voices be raised. We at WILPF Cameroon are campaigning across Africa to raise awareness of the political and moral implications of LAWS. States are encouraged to speak up, engage substantively and actively support negotiating to promote the development of a core group of states championing a pre-emptive ban.
It is time for governments to take responsibility and firmly denounce these weapons and support global advocacy for a binding legal instrument to ban Killer Robots.
Photo: Press Briefing by Campaign to Stop Killer Robots, 2019 © UN Photo/Evan Schneider