You are here: Global health: the biggest challenges are yet to come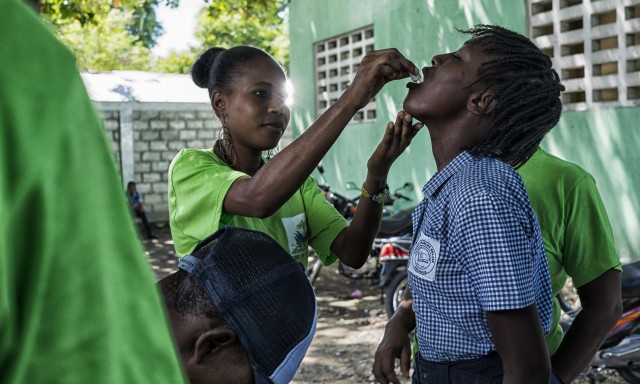 The global health calendar is increasingly crowded with dates marking the importance of different diseases, major milestones and critical health issues – but if there's one date next year we should pay particular attention to it's June 4.
This important day could prove pivotal for the reach of the primary health care system and therefore, the aim of achieving Universal Health Coverage by 2030. Why? Because this date marks Gavi, the Vaccine Alliance's donors pledging conference to raise US$7.4 billion – the biggest ever drive to increase access to life-saving vaccines for children in poor countries. If successful it will help protect 300 million of the most vulnerable children and prevent up to 8 million deaths by 2025.
The world is reaching a tipping point of global fragility, through over consumption of resources, population growth and displacement, urbanisation, climate change, and growing rates of antimicrobial resistance. In theory, urbanisation should improve people's access to health services. But in poorer parts of the world, as increasing numbers of people live in closer proximity to each other, too often in urban slums, primary health care and access to water and sanitation services is inadequate. Because of this, the risk of disease outbreaks and the ease of which disease can spread increases.
This represents a major concern because global emergency stockpiles of vaccines, which are our frontline defence against outbreaks, are not designed to cope with urban epidemics in large cities. In fact, all it would take is for one major outbreak in a city with a population of 10 million before most emergency reserves are used up. And there are 33 metropolitan areas like this already, with more predicted in the next decade. The solution is not to strengthen our response with larger stockpiles, but rather build greater resilience through prevention and routine immunisation.
In DRC, the Ebola epidemic has co-existed with a 700% jump in measles cases and 13,400 suspected cases of cholera. Complacency in the face of these global threats could mean that the hard-won gains from increasing childhood immunisation could unravel fast.  
For many countries, increasing fragility can also mean that achieving the Sustainable Development Goals feels like an uphill battle. Yet routine vaccination can go a long way to help them achieve their SDGs targets, especially widening access to primary health care and achieving UHC. By focusing on the 10% of children currently missed by any routine immunisation, two-thirds of whom live under the poverty line, we are engaging in a pro-poor, pro-gender way to build resilience.
Immunisation isn't just relevant to improving health (SDG3), but actually contributes to 14 of the 17 SDGs, for example, in reducing poverty by lowering out-of-pocket spending on health (SDG1) and creating stronger individuals and families with consequently better economic chances, plus creating an infrastructure through which nutritional support can be delivered (SDG2).
Additionally, the infrastructure required to vaccinate children means immunisation programmes are often a gateway to other health services, creating a platform for primary health care and ultimately universal healthcare. Vaccination can also help mitigate one aspect of the world's increasing fragility: preventing disease that might be treated by antibiotics will reduce rates of antimicrobial resistance. And immunisation can help prevent the spread of disease when people migrate across the country in search of work or food.
That's why Gavi's funding for the 2021-2025 period is so critical. As things stand, population growth already means that Gavi needs to vaccinate more and more children each year just to maintain immunisation coverage levels, with more than 140 million babies born every year. But in the face of formidable global trends like urbanisation, climate change and poverty, the task of reaching more children will become increasingly difficult. Children currently missing out on any form of immunisation are the ones we can't see and therefore can't protect. That's why Gavi is being even more ambitious in its goals, and why it is so critical that it gets the support it needs to achieve them. The success of the SDGs - and our ability to ensure that no one is left behind - hangs in the balance.
Photo: Cholera Vaccination Campaign in Arcahaie, Haiti, 2016 © UN Photo/Logan Abassi