Are humans among the species now threatened with extinction? This issue of the UNA-UK magazine takes stock of the state of the world as we approach a number of tipping points for our global system.
2020 is the year in which we either come to grips with issues like climate change, nuclear non-proliferation, and UN reform, or lose our opportunity to do so, potentially forever.
Natalie Samarasinghe's editorial reflects in more detail on the state of our world, the actions urgently needed to avert catastrophe, and how her work at the United Nations will facilitate the largest ever global conversation, and action for our common future. Or as she puts it succinctly: 
"In short, the world is a mess. And if the world was a friend of mine, I'd be sitting it down and saying: look, we really need to talk."
Ahead of the 75th anniversary of the United Nations, six representatives of the biggest-ever generation of young people offer their perspectives on what three things we can do to save the world:
Sanchit Gupta, Co-founder, MealCare (Canada)
Giovanna Kuele, Researcher, Igarapé Institute and Together First representative (Brazil)
Arizza Nocum, Youth leader, participant in the Kofi Annan Foundation's Extremely Together initiative (Philippines)
Demetri Wijesinghe, Activist (Sri Lanka)
Jacob Ohrvik-Stott, Senior Researcher, Doteveryone (United Kingdom)
Maria Villatoro, Founder, Conquer (El Salvador)
"We need to protect and empower civil society. Amidst the rise of authoritarianism worldwide, and a lack of political will from nationalist leaders to advance common goals, the role of civil society is even more important."
This year's feature is a visual overview of the trends, risks and tipping points that define humanity's present challenges. It recognises both the grave risks we face and the opportunities that we must capitalise on, as well as recommendations for overcoming paralysis on these issues.
Our Ten feature subsequently maps out the 10 big opportunities in 2020 that should be seized.
In our essay, Minh-Thu Pham, Former Executive Director of Global Policy at the United Nations Foundation, looks at whether our international institutions truly work for all.  She argues that defending the idea of a global system does not have to mean defending all of the ideas that the system supports.
"We can't continue to defend multilateralism by focusing only on what goes on between countries. We need to do more to address the shortcomings of what multilateral institutions have promoted..."
Nirere Sadrach has the last word, sharing his perpective on joining Fridays For Future, the global movement calling for an urgent response to the climate crisis. 
Online we have exclusives from Seth Berkley, CEO of GAVI, on the biggest challenges yet to come for global health, Alanna Armitage, Director of the Regional Office for Eastern Europe and Central Asia of UNFPA, on Eastern Europe's population crisis, Catherine Anderson, CEO of the Jo Cox Foundation, on working towards a fairer and kinder political discourse, and much more.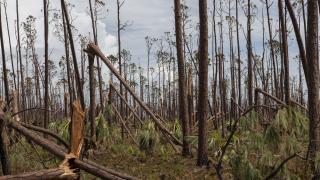 TRENDS, RISKS AND TIPPING POINTS
2019-1
Are humans among the species now threatened with extinction?