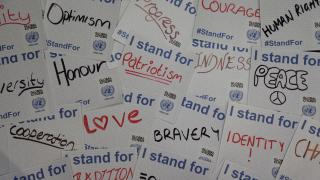 "We are an island, we can survive by ourselves."
Andy Fitch, a fishmonger from Cleethorpes, captured the mood of many in the UK earlier this year who feel little connection between international organisations and their own lives.
UNA‑UK is a movement of people who believe the opposite. Our values are global. We believe that not only does the whole world prosper when countries work together, but we have no chance of survival unless we do so.
The "go it alone" rhetoric of nationalism is seductive and dangerous. If left unchallenged, our long and proud history of international cooperation, concern and friendship could easily be forgotten. The need to unite our organisation, reach out to others, and communicate our values with one voice has never been more urgent.
What do you stand for?
So we're launching a year‑long campaign, sharing this message with local communities, the media and politicians. We want to discuss what it means to have global values. We want to talk about why we should invest our effort, time and money into organisations like the UN and how we, and the rest of the world, benefit when we do.
Earlier this month we kicked off this national conversation by asking an apparently simple question: "What do you stand for?" Equipped with our resources and backed up with a social media campaign, local UNAs are quizzing people at freshers' fairs and on high streets across the country on where they stand. Local groups are already using this to talk about their own work and recruit new supporters.
In November, we'll launch the results of this poll. We'll engage national media, accompanying the outcome with our own commentary and analysis. We will make funding available to local groups (including student‑led UNAs), encouraging them to hold their own events to explore their community's views on what it means to be an internationalist.
UNA‑UK's Policy Conference will be held in early 2017 and I've asked its independent organising committee to give members and supporters the opportunity to discuss the importance of internationalism to them. The ideas produced on the day will help develop the second stage of the project and enable local UNAs to shape the activities and resources they need to spread the word and grow their presence.  
Challenging a national mood that seems to say "we're better off alone" is a daunting task. But our 1 for 7 Billion campaign's goal, to change the way the UN finds its leader, was equally audacious. The only way we achieved it was by working together, combining contacts, experience and know‑how from across our movement and the world. By building a coalition of some 200 million grassroots activists and policy experts, we managed to make the secretive selection process fairer and more transparent – the first such transformation for 70 years.
Now, we need to build a similar movement in the UK and we're investing in making sure that everyone can take part and work together.
Local UNAs based in universities have long been a valued part of UNA‑UK but their work has often been disparate. Now, for the first time in decades, they're at the heart of our campaign, adding their voice and doubling the number of local groups locally embedded across the country.
We have also recruited Laurel Hart to the brand new post of Outreach Assistant. Laurel has been coordinating local groups and individual supporters, making sure they are equipped with the messages and resources they need.
This time next year, I want us all to look back together on 12 months of engaging conversations on global values. Not just the important political, economic and diplomatic discussions in Parliament and the broadsheets but, more importantly, your stories of debates that happened in places more real and relevant to most of us: community centres, freshers' fairs, local letters pages, pubs and on the bus home. Debates that argued passionately that global values are part of our shared heritage and identity. The thing that makes us, us.
I believe that the values of British people are global values at heart, and I'm counting on your help to remind them. 
Photo: Copyright UNA-UK