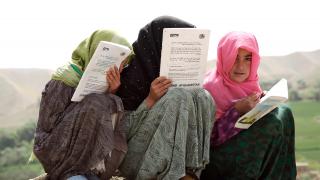 Nearly one year since the adoption of the 2030 Agenda for Sustainable Development, which commits to leaving no one behind in its efforts to end poverty, we turn to another significant global moment – the appointment of a new Secretary-General of the United Nations. This global leader will take up the mantle of implementing the transformative path upon which the world has embarked.                                                                         
This is a prime opportunity to set a new standard for international stakeholders. Particularly essential to these efforts is the realisation of girls' rights and empowerment. As one of the most marginalised groups on the planet, girls' rights and specific needs – which require increased attention and investment – are oft-neglected and overlooked. 
Girls are not merely beneficiaries of global development efforts. As critical agents for change, their contributions to sustainable development – including to economic growth, overall public health, environmental sustainability, and sustainable peace and security – are invaluable, and will create positive impacts across multiple sectors. When girls have access to sexuality education, their informed decisions can reduce rates of unintended pregnancy and STI infections, including HIV.  Similarly, each year of schooling increases girls' earning potential and contribution to economic growth by 10 - 20 per cent.  It is only with the inclusion of girls, and all marginalised communities, that the ambitious goals of Agenda 2030 can be reached.
Outgoing Secretary-General Ban Ki-moon noted time and again his commitment to gender equality, particularly through his Every Woman Every Child initiative, which was developed to invigorate efforts to improve health for women and children. In the past year, he has added an "adolescent health" stream to this initiative, addressing a gap that has long existed in programming and joining forces with UN agencies to highlight the importance of engaging adolescent girls in global sustainable development efforts.
While support has been vocalised by multiple sectors, organisations and agencies, girls are often still seen as recipients of development rather than the participants they can and should be. Even within many initiatives aimed at the health and wellbeing of adolescent girls, 10-14 year olds are often excluded. The next leader of the UN must therefore lead by example. She or he will need to put words into action, and should reaffirm and recommit to the UN's longstanding aspirations of gender parity throughout its institutions.
Actions by the UN can motivate member states to follow suit, prompting similar commitments to gender parity within their own national institutions and representation at the UN. The appointment of more women in highly visible, high-level and decision-making posts will also provide today's generation of girls with positive role models and leadership examples, and will teach a new generation of children that gender equality and gender parity is the norm, not an outlier. 
Another key issue that will be a deciding factor in the success of Agenda 2030 is the significant data gap on girls, particularly younger adolescents. The lack of data on girls perpetuates a cycle of exclusion, leaving girls' rights, needs, and experiences invisible and uncounted. If we are to back up the strong vocal support for girls' rights and empowerment, the next Secretary-General must take concrete action to address this gap. Mandates and resources, both human and financial, for data disaggregated, at a minimum, by age, sex, ethnicity, marital status and disability – as well as for innovative methods for data collection designed to incorporate and highlight the lived realities of girls – are essential to enable member states to see what needs to be done and develop better, more effective programmes.
The next Secretary-General must push the global community to tackle difficult issues, as these are often of prime importance to the hardest to reach populations. Some of these challenges include shifting centuries-old gender norms and paradigms and developing new methods for accountability. It requires time, political will, and dedicated resources – but it is essential to achieving progress for all. If we are to truly leave no one behind and achieve the full realisation of rights and empowerment of girls, we need to work with them, listen to them and count them.
Much progress has been made for girls in the last 15 years, yet there is still a long way to go. The UN – led by a forward-thinking Secretary-General who is invested in girls' and women's rights and empowerment – can help shift the global paradigm, making gender equality a reality by 2030. 
For more information on the work of Plan International visit www.plan-uk.org 
Photo: Three young girls in the Bam Sarai village in Bamyan province, Afghanistan, prepare for exams. Copyright: UN Photo/Shehzad Noorani