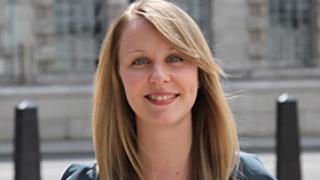 This issue of New World asks some fundamental questions of the UN. What is it for? Does it do its job well? Is it properly equipped? It's a good moment for some introspection. As Sir Jeremy sets out opposite, the next few years will see a number of changes, not only for the UK, but on the regional and global level too. Many of these changes will be subject to scrutiny at our UN Forum event on 28 June.
These questions are based on a tacit understanding – and basic tenet of UNA-UK's mission – that a strong, credible and effective United Nations is essential in what can at times seem an unfair and unstable world. Where things get complicated, however, is agreeing exactly how to make the UN work better.
Over the past seven decades, the Organization has undergone an extensive programme of trial and error, attempting both radical reform and minor adaptations. For followers of international relations, it is an exercise that has provided some fruitful lessons.
The most notable effort of recent years began under the tenure of Kofi Annan with his High-Level Panel on Threats, Challenges and Change. Formed to identify major challenges to international peace and security, and to make recommendations on how to tackle them, the panel's report remains highly relevant 10 years on. Indeed, in an interview found here, panel member and former UNA-UK Chairman David Hannay reflects not only on the relative success of the proposals that were implemented, but also on the substantial work still left to be done.
It was with this exercise in mind that UN expert Professor Ed Luck wrote his starkly titled article, "How Not to Reform the United Nations", in 2005. He considered the panel to be emblematic of the UN's approach to reform, "following recurring patterns and producing largely predictable results". A simplified version of this pattern can be found below – its six-step cycle will be familiar to UN watchers.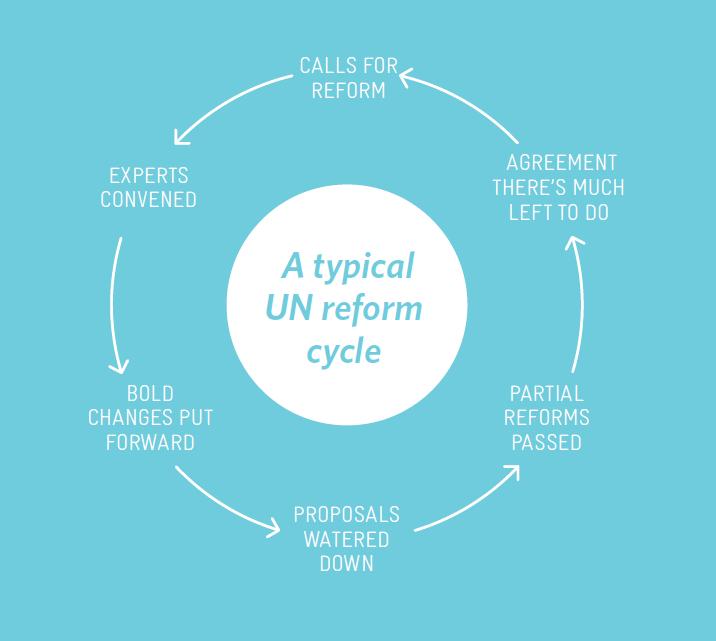 The main thrust of the article is that while a package of institutional reforms can undoubtedly produce some good ideas, its impact will always be limited. As an intergovernmental body made up of 193 member states, protecting 193 interpretations of national interest, the UN has, as Luck observes, an "intrinsically political character". Its most intractable problems are therefore political.
For example, for many the crisis in Syria, and the Security Council's inability to address it adequately, overrides all other concerns. As Adam LeBor argues in our Talking Points feature, without addressing this issue, all other UN commitments ring hollow. Would Security Council enlargement resolve the impasse? Likely not. Would veto reform? Maybe. However, achieving the latter would be no mean feat, as French Ambassador Bernard Emié acknowledges in his article.
And so we arrive at what is perhaps an uncomfortable truth. As David Hannay suggests, while one part of the UN is seemingly broken beyond repair, "it is the rest of the UN system which has to mitigate the appalling consequences".
At a time when those consequences may transcend borders – with conflicts drawing in neighbouring states, domino effect financial crises and changing weather patterns – deciding how best to shore up the UN's defences is surely in the interest of everyone.
Hayley Richardson is Policy & Advocacy Officer at UNA-UK and editor of New World. You can follow her on Twitter at @hayliana.