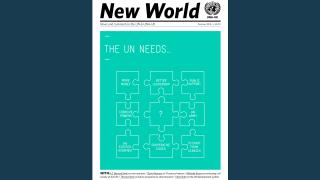 The Summer 2014 issue of New World asks some fundamental questions of the UN.
When expectations of the Organization are arguably higher than ever, it's a good time for some introspection. For many, the key to addressing these major global issues will be how well the UN can adapt and reform in the coming years.
With that in mind, our New World contributors assess both the efficacy of previous UN reform initiatives and the challenges that lie ahead. Articles include reflections from David Hannay on the 10 years since the High-Level Panel on Threats, Challenges and Change, an outline of French proposals for veto restraint from H.E. Bernard Emié, a Talking Points debate on whether the UN is fit for purpose and a New World briefing on the appointment process for the next Secretary-General.