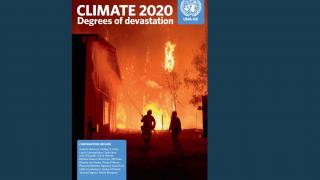 UNA-UK has released a major report on implementing the new climate deal agreed by UN member states in Paris in 2015.
Climate 2020 – Degrees of Devastation is the fourth in our series of major reports on the Paris Agreement on climate change. It equips policy-makers, practitioners and interested observers with insights on how to make the agreement a reality.
The publication features short, incisive articles from over 30 authors drawn from the UN system and from governments, the private sector, academia and civil society. They include:
Our contributors make the case that Climate Change is no longer something abstract but a daily reality for many of the most vulnerable people in the world. Nevertheless, preventing a catastrophe is still possible, but requires action on an unprecedented scale. Given the dereliction of duty by global leaders on this most vital of issues, our campaign instead looks at what other actors - the public, civil society, local leaders and activists and the private sector - can do to avert the nightmare scenario of a two degree warmer world.
Together, the articles provide a source of practical actions, approaches, analysis and case studies on how the hard-won Paris deal can become the climate framework we need - namely one that is robust, equitable and able to deliver long-term benefits to all.
Visit the Climate 2020 website
For more information, please contact Fred Carver on carver@una.org.uk or 020 7766 3445.
What are people saying about Climate 2020? Check out #Climate2020