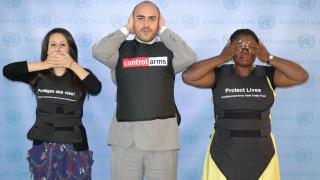 Robert Perkins, Researcher, ATT Monitor project, Control Arms Secretariat
Civil society has played a critical role in the rapid developments in arms control over the past two decades. From the agreement of global bans on antipersonnel landmines and cluster munitions, to the first legally binding international instrument to regulate the trade in conventional arms and ammunition, to the recent UN vote to begin work toward a ban on nuclear weapons, civil society has been at the heart of all recent civilian protection initiatives.
The Arms Trade Treaty (ATT) was achieved through a partnership between progressive governments and global civil society from all regions of the world, mobilised by the Control Arms Coalition. Throughout the ATT's development, civil society contributed a wealth of experience and expertise across many fields including the areas of human rights, gender, public health, and conflict reduction, as well as bringing the voices of armed-violence survivors to the centre of states' discussions.
Following the ATT's entry into force in 2014, the focus has turned to supporting universalisation and implementation. Civil society participation on this front continues to be critical, as multi-stakeholder partnerships are a vital means of sharing knowledge and expertise, as well as building collective capacity within decision-making infrastructure such as the annual Conferences of States Parties (CSPs).
Civil Society Organisations (CSOs) had to fight for access to CSP proceedings, campaigning successfully for some meetings to be "open" instead of "closed" and building support among states willing to champion such provisions. However, current levels of participation in ATT fora should not be taken for granted, given the concerning signs that the hard-won access could be withdrawn in the future.
The Secretary-General should make a positive case for better access to all disarmament and arms control processes and fora.
Monitoring ATT implementation necessitates critical analysis of government behaviour – not blanket support. This means confrontational work at times and already, some states, notably European exporters, have started to push for a more closed process and attempted to undermine the input of CSOs.
Secretary-General Ban Ki-moon was a supporter of civil society participation throughout the ATT negotiation process. By identifying himself as a vocal champion for inclusivity, the incoming Secretary-General can build on the work of his predecessors and be influential in ensuring that ATT procedures remain accessible.
Other UN arms control processes, such as the Conference on Disarmament, have been more restrictive, and, by limiting civil society participation, combined with decision-making processes that rarely allow progress, have consequently suffered a lack of legitimacy, public interest and support.
The Secretary-General should make a positive case for better access to all disarmament and arms control processes and fora. This should include recognition of the role played by international coalitions in bringing together civil society groups across the world, especially the global South, and advocacy for their continued support in representing their members at UN and other international meetings.
Civil society, with its wide-ranging expertise and its representation of diverse global views, is critical in ensuring accountability, rigour and transparency across international arms control processes. Strong norms must be established to safeguard such inclusion that, ultimately, will lead to more robust arms control mechanisms providing meaningful protection of civilians worldwide.
About the author
Robert Perkins is a researcher with the Control Arms Secretariat, working on the Arms Trade Treaty Monitor project. He has worked across a range of arms control issues, including explosive weapons in populated areas.
Photo: 'Bulletproof stunt' organised by Control Arms in response to the denial of civil society participation in key arms control discussions at the UN in July 2010. Credit: Control Arms/CC