You are here: UNA-UK's Together First Campaign highlighted in landmark UN75 report
21 September 2020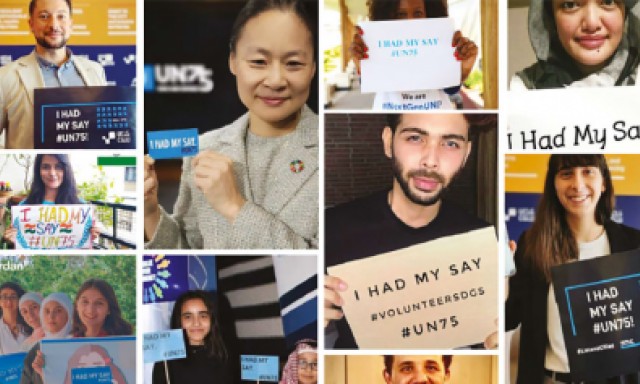 In January 2020 the UN Secretary-General launched a global consultation to mark the 75th anniversary of the United Nations. So far over 1 million respondents from all UN Member States have expressed their hopes, fears and priorities for action - taking part through surveys, facilitated group dialogues and representative polling in 50 countries.
Understandably the findings show that health is the most pressing issue right now, with access to healthcare and education seen as immediate priorities. Our inability to stem the climate crisis and the destruction of the natural environment is viewed as respondents' most overwhelming medium- and long-term concern.
More than 90% of those surveyed believe international cooperation is vital to deal with today's challenges, with the majority believing the Covid-19 crisis has made cooperation even more urgent. Dialogue participants overwhelmingly called for the UN to be more inclusive of the diversity of actors in the 21st century - as well as calling for increased accountability, transparency and consistency in exercising its moral authority to uphold the UN Charter.
Recognised as a partner in the UN75 consultation, UNA-UK's Together First campaign held a series of feed-in dialogues with participants from all UN regions culminating in the publication of a 'to-do list' for the international community - a set of 10 recommendations identifying pragmatic steps to strengthen our system of global governance across the themes of: citizen engagement, accountability, inclusive security and weapons governance. We also worked with UN2020 to co-host a Peoples' Forum at which a 'People's Declaration' was presented to the President of the 74th Session of the UN General Assembly. The Declaration includes a call for a "mandated post-2020 follow-up mechanism to usher in a new compact for more equitable, inclusive and effective global governance".
We are delighted to see so many of Together First's outputs and themes - as well as our 10 point to-do list - featured in this important UN report which has been circulated all member states ahead of today's high-level meeting to commemorate the 75th anniversary of the United Nations. 
We would like to take this opportunity to thank the members of Together First's global focus group and advisory council who have worked tirelessly to refine and strengthen our consultation outputs.
Photo: UN75
More on Civil society agenda, UN in the news, UN reform