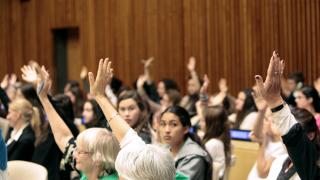 Ben Donaldson, Head of Campaigns, United Nations Association – UK
CSOs have become indispensable across the UN's broad spectrum of work – from service provision to contributing to major policy initiatives like the SDGs. Yet, deeper engagement with civil society will be essential if the UN is to deliver its ambitious agenda at a time of grave challenges to the international system. As Secretary-General Guterres said in late 2016: cooperation between the UN and civil society must become "a key element in solving global problems".
The UN needs to take action on two fronts to realise this vision. Firstly, there must be concerted support to help protect civic space outside the UN. According to UN Special Rapporteur Maina Kiai, the past decade has seen an "unprecedented wave of repressive laws and practices sweep across the world" designed to silence those who dare to speak out. Civic space is shrinking fast and, given the importance placed on civil society by the UN, the Organisation must do all it can to champion the protection, reopening and expansion of civic space.
Action from the Secretary-General can help here. By identifying himself early on as an energetic advocate for the rights of civil society actors, and advocating greater support for the Office of the United Nations High Commissioner for Human Rights' work on this front, Mr Guterres can promote good practice and stimulate debate between member states on this issue.
Deeper engagement with civil society will be essential if the UN is to deliver its ambitious agenda at a time of grave challenges to the international system.
Secondly, improvements within the UN are needed in order to better coordinate civil society cooperation across an organisation whose size, complexity and remit has increased dramatically since its founding. Progress here has been thwarted in the past more by a lack of political and financial will than a lack of ideas.
Reform initiatives such as the 2003-04 Panel of Eminent Persons on UN-Civil Society Relations have yielded some compelling proposals that remain unimplemented, including those relating to coordination across the UN system. For over 40 years, this role has largely fallen to the UN Non-Governmental Liaison Service (NGLS) – a voluntarily funded, inter-agency programme that operates on a shoestring, currently administered by the Secretariat of the UN Conference on Trade and Development (UNCTAD) in Geneva.
Despite punching above its weight, for a body like NGLS to play an effective system-wide coordination role would require an appropriate and secure funding stream as well as improved institutional standing.
The Secretary-General's new-look Executive Office, with its emphasis on coherence and coordination, offers a promising opportunity to reinvigorate reform here. An early priority should be the appointment or designation of a senior official as a system-wide focal point to lead a partnerships unit with the institutional status and funding necessary to mainstream civil society engagement across the UN. The System Wide Action Plans on Youth and Gender could provide some inspiration on this front.
Sustained support from member states will be critical in order to make such reforms effective. Part of this will be identifying and working with those states willing to lead the march for civil society – not least to ensure that institutional arrangements have the necessary financial backing.
By supporting this agenda, and driving it forward where possible, Secretary-General Guterres could put the UN in a better position to capitalise on the unique energy and expertise that civil society has to offer in pursuit of our shared aspirations for a peaceful future.
About the author
Ben Donaldson is Head of Campaigns at the United Nations Association – UK, a co-founder of the 1 for 7 Billion campaign. His focus is on UN reform and UK-UN relations.
Photo: Girl Activists Speak Out on 2nd Annual Day of the Girl Child. Copyright UN Photo/Sarah Fretwell