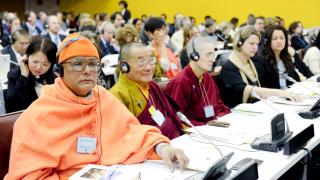 Farooq Ullah, Director, Stakeholder Forum; Co-Chair, UK Stakeholders for Sustainable Development
The process to establish the UN's 2030 Agenda for Sustainable Development and the associated Sustainable Development Goals (SDGs) was one of the most inclusive in humanity's history. With participation, transparency and multi-stakeholderism – effective collaboration between government, civil society and the private sector – riding high throughout the negotiations, the resulting SDGs can rightly be held up as an example of inclusive policy-making.
As we now switch gears towards implementation of the SDGs (and the Paris climate deal) it is necessary to replicate this esprit de corps at the regional, national and local levels where implementation truly takes form.
It is clear that public policy alone will be insufficient to achieve the SDGs. But while most stakeholders, including civil society, will likely see their missions reflected in the SDGs, do we have the right processes and mechanisms in place to allow them to meaningfully engage?
The SDGs provide two key operational principles: those of 'universality' and 'leaving no one behind'. How to embody these principles in practice is both unclear and challenging.
Multi-stakeholderism offers a means by which these ambitious principles can be realised as well as ensuring that efforts are coordinated and productive.
But there must be alignment between global goals and local action. As resources for sustainable development are scarce, the need to be both effective and efficient is greater than ever. Each country will want to approach this task in its own way. But some key elements will need to be addressed everywhere. At the national and local levels we must now:
Improve government and legislative machinery for sustainable development;
Model new and better processes for engaging all international and domestic stakeholders;
Create or renew national sustainable development strategies or frameworks in light of the SDGs;
Review policies and programmes in the SDGs, including the application of green economy principles and instruments for domestic resource mobilisation; and
Deliver formal and informal education, public awareness and capacity building training.
Multi-stakeholder models being pursued on this basis should be encouraged, as should shared learning between initiatives that follow this approach, such as the UK Stakeholders for Sustainable Development (UKSSD).
The UN can show leadership on multi-stakeholder action by advocating the establishment and resourcing of:
Stronger and more formal mechanisms for including non-governmental stakeholders in the delivery of the SDGs, and
Regular, transparent and inclusive reporting mechanisms including civil society, in order to consider how both official and stakeholder-held non-official data can be collected and reported on.
In a time of seismic socio-economic shifts coupled with a growing sense of protectionism and tribalism, we need a positive vision for the future that people can get behind. The SDGs offer a common global framework for a fair and green future for our world, through which all stakeholders, if well-coordinated, can play their part in responding to global challenges.
By highlighting best practices of cooperation between governments, the private sector and civil society in the creation of the SDGs, the UN can facilitate the latter's involvement in the implementation of the SDGs and in this way contribute effectively to this ambitious agenda.
About the author
Farooq Ullah is a Director of Stakeholder Forum and Co-Chair of the UK Stakeholders for Sustainable Development – an open, multi-stakeholder platform that supports public, private and voluntary organisations working towards sustainable development in the UK.
Photo: A high level meeting on 'Happiness and Well-being: Defining a New Economic Paradigm', organised by the Government of Bhutan at UN Headquarters. Experts from governments, religious organizations, academia and civil society met to identify the measures required for an economic paradigm that incorporates social and environmental progress in efforts to achieve sustainable development. Copyright UN Photo/Eskinder Debebe