You are here: 10 signs of hope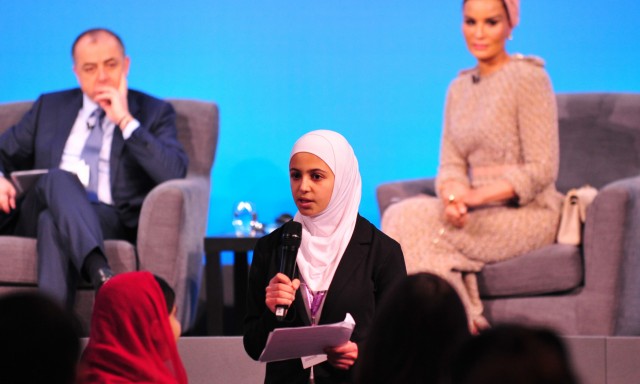 Amidst all the suffering in Syria, there have been some occasions where humanity has shone through the carnage. Here we present 10 stories you might have missed – signs that there is yet hope for Syria.
1. Refugee radio
An award-winning radio host in Syria who was forced to flee to the United States when conflict broke out, Honey Al Sayed now relays the stories of Syrian refugees to a global audience. Upon arrival to the US, Al Sayed co-founded SouriaLi – a non-profit online radio station that fosters peacebuilding, reconciliation and democracy for Syria. Programmes include a soap opera called We are all Refugees, dramatising the lives of Syria's displaced.
2. Syrian 'hacktivism'
Dlshad Othman, a Kurdish-Syrian refugee in Washington, sat up all night on 25 February 2013, following Twitter reports that a missile had been fired from the southwest of Damascus. Having served in a Syrian artillery unit, Othman knew it would hit Aleppo in roughly six minutes. Months later, Othman set up 'early-warning app' Aymta, which delivers airstrike alerts to Syrian subscribers. It received 16,000 views in its first 24 hours.
3. Action shots
Syria launched its Mobile Phone Film Festival in 2014, organised by Syrian filmmak-ers and activists to honour the memory of individuals who risked their lives to record the country's civil war. The festival, which tours internationally, features a handful of some 300,000 video clips caught on phone camera and uploaded to YouTube during the conflict. The festival has also given away grants to help young filmmakers produce their films.
4. Sound of hope
Electro musician Kaan Wafi is one of the hundreds of thousands of Syrians in Germany. In Berlin, Wafi found a growing community of foreign artists, with whom he began to collaborate on visual art and music, occasionally performing in refugee camps and cultural centres. Wafi's debut album, Pieces From Exile, condemns atrocities committed by the Assad regime and mourns the many refugees who drowned in the Mediterranean.
5. Equal rights
The female founders of Souriyat Across Borders wanted to provide equal opportunities for Syrian children in Jordan. As well as operating a full-time free medical centre for the mental and physical rehabilitation of refugees and civilians inside Syria's besieged areas, Souriyat Across Borders donates necessities such as clothing, water and food and has partnered with the British Council to provide education and skills training for displaced students.
6. 'Malala of Syria'
Teen refugee Muzoon Almellehan was one of the first Syrians admitted in the United Kingdom under Prime Minister Cameron's plan, with the help of UNHCR, to accept 20,000 refugees by 2020. Since settling in Newcastle, Almellehan has been busy advocating for girls' education and the prevention of child marriage, which increased dramatically with the onset of the civil war, leading her to become known as the 'Malala of Syria'.
7. Women now
Set up in the Syrian countryside, Women Now aims to enable Syrian women to become active members of society, both economically and socially, and to become key partners in political decision-making at the local and international level. Muzna al-Jundi, spokesperson for the organisation, told Syria Untold, that Women Now was opening two new centres in the Idlib countryside and four new ones in the Eastern Ghouta.
8. Race for life
When the motor on their boat failed after setting off from Turkey, Yusra Mardini and three other asylum-seekers, including her sister, swam for three hours in open water to stop the dinghy with its 16 other occupants from sinking. Mardini eventually settled in Berlin in 2015 where she trained to compete in the 100m freestyle at the 2016 Rio Olympics as a member of the first-ever Refugee Olympic Team.
9. Friendly flatshare
After sharing a flat with a young man who fled from Mali, Golde Ebding, Mareike Geiling and Jonas Kakoschke decided to create 'Refugees Welcome', a digital platform aimed to ease resettlement of refugees by connecting them with willing flatshare and family homeowners in Germany. So far, the platform has matched 378 people across Germany with refugees previously living in camps.
10. Going viral
After having fled Syria, 25-year-old Firas Alshater is now a YouTube star. In his videos, Alshater discusses his journey from a political prisoner, as co-organiser of the first protests against Assad – to a refugee, tackling issues such as integration with humour. In one viral video, Alshater stands blindfolded, with a sign that reads: "I am a Syrian refugee. I trust you – do you trust me? Hug me!" His YouTube channel, Zukar, has over 1.6m views.
Compiled by Michelle Hill, Communications Volunteer Intern, United Nations Association - UK 
Photo: Mazoun Almellehan, Malala Fund, addresses the focus event on education at the Supporting Syria and the Region conference. Credit: DFID