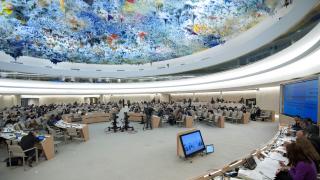 UNA-UK has submitted evidence on the UK's human rights record ahead of its Universal Periodic Review (UPR) at the UN Human Rights Council in Geneva. The recommendations contained in the report have received support from 62 local UN Associations.
Amid renewed Government plans to scrap the Human Rights Act and the apparent deprioritisation of human rights in UK foreign policy, UNA-UK's report expresses concerns that the UK's reputation as a leader in human rights and international affairs is at risk of being undermined.
What is the UPR?
The Universal Periodic Review is a peer-review process by which the human rights record of all 193 UN member states is regularly reviewed. Set up by the UN Human Rights Council, it is a central element of the UN's human rights system and aims to hold states accountable for promoting and protecting the fundamental freedoms of their citizens. 
UNA-UK's report has been sent to the UPR Working Group at the Human Rights Council ahead of the UK's review next Spring. The Working Group may raise some of the recommendations put forward in this report during the UK's UPR. 
Organisations are also able to team with other NGOs and send joint submissions to the Human Rights Council. Last month, UNA-UK submitted evidence on the UK's human rights performance to a joint civil society report, coordinated by the British Institute for Human Rights and comprised of evidence from over 200 civil society organisations.
What do we want?
In this new, independent UPR submission, UNA-UK sets out three main recommendations for improving the UK's perfomance on human rights:
Strengthen the global human rights system by signing up to key international human rights agreements
Set an example at home by bolstering, not weakening, UK human rights law
Raise international standards by retaining human rights as a priority in UK foreign policy
UK-wide support
Before UNA-UK submitted its report to the Human Rights Council, we sought support from local UN Associations across the country. The response was overwhelming, with 62 local UNAs adding their names in support of the submission's recommendations. You can view the full list of supporters in the report.