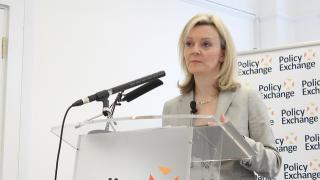 Justice Secretary Liz Truss has confirmed that the UK Government will pursue plans to repeal the Human Rights Act and replace it with a British Bill of Rights, raising concerns about the future of human rights protections in the UK. 
In an interview with BBC Radio Four, Liz Truss insisted that the Government was "committed" to delivering on the Conservative Party's manifesto pledge, but refrained from setting out a clear timetable for when the new Bill of Rights would be presented to Parliament. "I'm looking very closely at the details", said the Minister.
Her statement comes in spite of recent media reports which suggested that the proposals to scrap the Act had been shelved in the wake of the EU referendum, or may be abandoned altogether. 
UNA-UK is concerned that scrapping the Human Rights Act - which incorporates the provisions of the European Convention into UK law - may dilute human rights protections for people in the UK. UNA-UK believes the Act has, on balance, operated effectively, having built up crucial case law and provided people in the UK with important avenues for redress. Any changes to the current system must maintain and build upon current protections, and should be assessed by the extent to which they strengthen the voice and agency of the vulnerable and marginalised.
Following the Queen's Speech in May 2016, UNA-UK joined 130 civil society groups in pledging its support for the Human Rights Act, which safeguards the fundamental freedoms of people in the UK. The pledge recognised that: "Human rights underpin our democracy, hold Governments to account and require that everyone's dignity is equally respected".
UNA-UK has also contributed to a joint civil society report - coordinated by the British Institute for Human Rights - which provides evidence on the UK's record on human rights ahead of its Universal Periodic Review (UPR) at the UN Human Rights Council in Geneva. The UPR is a peer-review process by which the human rights record of every UN member state is regularly reviewed. 
In its submission to the joint report, UNA-UK expressed concern about recent uncertainty over the future of the Human Rights Act and recognised that the proposals are "part of a broader – and increasingly negative – debate on human rights". UNA-UK believes that - as a permanent member of the UN Security Council, an active member of the UN Human Rights Council and a major aid donor - the UK has a special responsibility to lead by example on human rights at home and abroad.
Read UNA-UK's submission to the joint civil society report
In the coming months, UNA-UK will be working with The Human Rights Alliance of NGOs to ensure that the UK's domestic human rights protections are not weakened by any changes to legislation.
Photo credit: Policy Exchange/CC