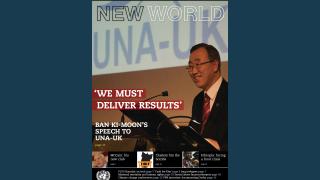 In June UNA-UK was thrilled to host the first major public appearance in the UK by UN Secretary-General Ban Kimoon. In his speech, the Secretary-General commended UNA-UK's role as a mediator between the world body and the British public, saying that the Association had 'explained the UN to the UK while helping to convey the concerns of British citizens to the UN'.
In Dispatches David Morrison sets the record straight on allegations made against the UN Development Programme when he was its communications director. The chair of UNHCR's Executive Committee, Ambassador van Eenennaam, argues for more help for Iraqi refugees. And Martin Luther Agwai, the force commander for the UN-AU mission in Darfur, describes how a shortage of helicopters is making UNAMID's mission next to impossible.
The UN set up its first peacekeeping mission 60 years ago. Since then many men and women have risked – and lost – their lives to bring peace to war-torn societies. These sacrifices stand in marked contrast to abuses perpetrated by UN peacekeepers against the populations they are sent to protect. This issue's Briefing outlines what steps the UN has taken to prevent these
crimes and provide redress to victims.