You are here: Watch: Secretary-General candidates take part in third UNA-UK debate
14 July 2016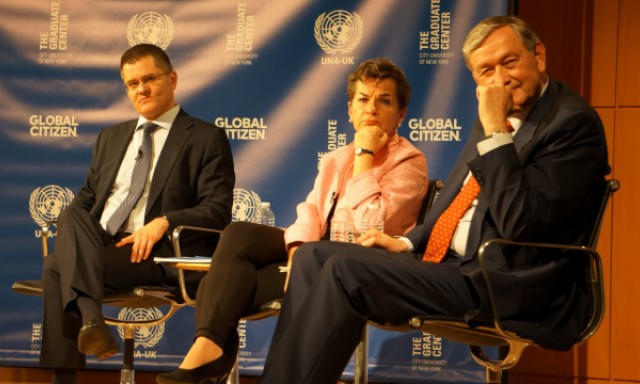 On Wednesday 13 July, UNA-UK held its third public debate with UN Secretary-General candidates, continuing its work to make this selection process more open and fair.
The event took place at the City of New York (CUNY) Graduate Center and saw participation from three of the
candidates
vying for the UN's top job: Christiana Figueres (Costa Rica), Vuk Jeremić (Serbia) and Danilo Türk (Slovenia).
Candidates were quizzed by the moderators, Thomas G. Weiss, Co-Director of the Future UN Development System Project, and Barbara Croisette, UN correspondent for The Nation and previously the New York Times. A range of challenging topics were covered, including forced migration, conflict resolution and UN reform.
Introducing the candidates, Natalie Samarasinghe, Executive Director of UNA-UK, observed that: "There is a deficit in global leadership at a time when it is needed more than ever". She stated that the candidates on stage were there to show that the UN could be a "stronghold against isolationism."
Climate change emerged as a prominent theme during the debate, with Christiana Figueres - who spearheaded the Paris agreement - expressing optimism that countries had finally recognised the importance of tackling global warming. Dr Türk emphasised the role of cities in combating climate change, while Mr Jeremić noted that global awareness about the scale of threat had significant improved over the past few years.
Questions from the public about gender equality and LGBT rights evoked a range of responses, with Mr Jeremić promising to push for 50:50 gender parity within the United Nations. Dr Türk agreed that "the Secretary-General has to be seen as a human rights activist for equality", and Ms Figueres received a cheer when she said: "Society has been hopping along with one leg for thousands of years. The male leg. It's time we walked with both."
The conversation turned to ongoing crises in Syria, Yemen, Iraq and elsewhere following a question from the public. All three candidates agreed that the UN needed to invest more in early warning and prevention, with Dr Türk suggesting that Western patterns of intervention should be seriously re-evaluated. Ms Figueres argued that "we have to increase our sensitivity to pick up the indicators" of when human rights are being violated in order to prevent escalation, while Mr Jeremić said that UN is not fit for purpose when it comes to addressing peace and security issues. 
In the closing remarks, moderator Thomas G. Weiss asked why anyone would want to drink from the "poisoned chalice" that is the UN. For Figueres, the UN is our best opportunity of "proving again and again that multilateralism does work", while Jeremić took the more cynical view that "the best of the UN is not good enough". Türk invoked the UN's success in ending apartheid and noted: "The UN is doing some very important things, some of which is not immediately recognised."
The audience of 500 included representatives of member states, UN staffers, students and the general public. The event was organised by UNA-UK in partnership with Global Citizen and the CUNY Graduate Center. 
More on Secretary-General debates, 1 for 7 Billion