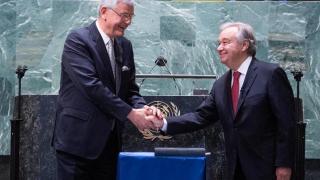 Today (18 June) António Guterres was officially sworn in for a second term as UN Secretary-General.
As co-founders of the 1 for 7 Billion campaign, we were pleased that key elements of the improved selection process agreed by the General Assembly in 2015 were maintained, notably the joint letter from the Presidents of the General Assembly and the Security Council calling for Member State nominations, the submission of vision statements and dialogues with candidates. This has helped to consolidate the process, especially as Mr Guterres, as an incumbent, took part.
With this new endorsement from Member States, we believe the Secretary-General has a window of opportunity to set out a bold vision for the future - building on the mandate given to him by the General Assembly through the Declaration on the UN's 75th anniversary and the UN75 global conversation which showed a groundswell of support for the United Nations and for transformative action across the world.
That window may well recede as ongoing strife and fallout from the pandemic bed in. He should seize this moment to build on his previous term and:
Give it his all on climate action and a rapid - and just - transition to zero carbon
Set in motion a process that will see the UN do more on resilience and preparedness, on mediation and peacebuilding, on foresight and future generations, and less on traditional tasks that could be done by other stakeholders
Signal that atrocities are always a red line for speaking out, and that speaking out is always an option when closed-door advocacy isn't working
Respond to the resounding call from the UN75 conversation to include civil society and youth in UN decision-making and delivery on the ground, including by appointing a high-level civil society champion at the UN
Be brave and creative in his appointments, and do more to free the UN from the tentacles of patriarchy and colonialism that still grip it, as he himself has noted
Use his global platform to inspire action and change the conversation, as he did with his Mandela Lecture last year
Read more:
Photo: Mr. Guterres (right) takes the oath of office for his second five-year term. The oath is administered by Volkan Bozkir, President of the seventy-fifth session of the United Nations General Assembly. c. UN Photo/Eskinder Debebe