You are here: VIDEO AVAILABLE: UN Sec-Gen candidates' debate
3 June 2016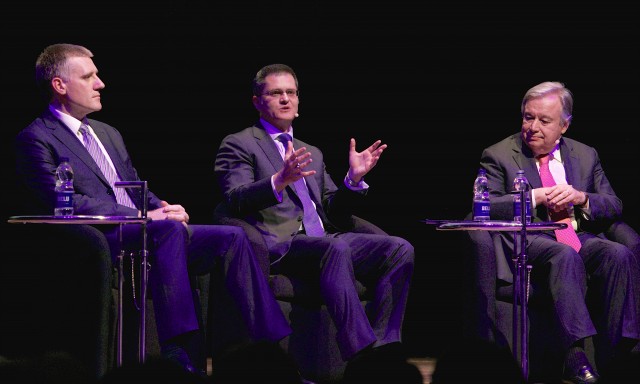 On Friday 3 June in London's Barbican Centre, António Guterres, Vuk Jeremić and Igor Lukšić tried to convince the public that they should get the UN's top job.
A video recording of this event - the first major public hustings between UN Secretary-General candidates in the UN's 70-year history - is available below.
Schedule 
7pm - Introduction - Natalie Samarasinghe, Executive Director, UNA-UK, and co-founder, 1 for 7 Billion
7.10pm - Debate, moderated by Mark Rice-Oxley Head of Special Projects, Guardian. The debate will incorporate questions from across the world, courtesy of Global Citizen and Avaaz. 
The candidates
H.E. António Guterres, former UN High Commissioner for Refugees and former Prime Minister, Portugal
H.E. Vuk Jeremić, Former President of the UN General Assembly and former Foreign Minister, Serbia
H.E. Dr. Igor Lukšić, Former Deputy Prime Minister and Minister of Foreign Affairs and European Integration, Montenegro
Further information can be found here.
Photo: UN Secretary-General Candiate Hustings Debate at the Barbican Centre. Copyright UNA-UK
More on Secretary-General debates, 1 for 7 Billion